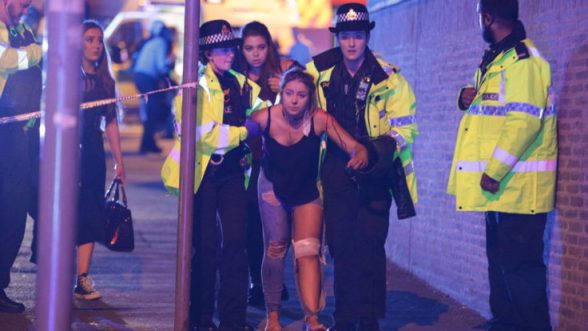 POLITICAL parties in Northern Ireland political have suspended their election campaigns as a mark of respect to the 22 victims killed in last night's Manchester bomb attack.
Almost 60 others were injured in the suicide bombing in Manchester Arena by a suspected 'lone wolf' terrorist.
Leaders of the DUP, Sinn Féin, UUP, SDLP and Alliance have all expressed shock and sympathy.
The explosion happened at 22.35 pm at the end of a pop concert by the US singer Ariana Grande.
Greater Manchester Police said that officers are "treating this as a terrorist incident".
The force added that it believes the attack was carried out by one man carrying an improvised explosive device which he detonated.
The suspect died in the explosion but officers said: "The priority is to establish whether he was acting alone or as part of a network."
DUP leader Arlene Foster tweeted: "I have asked all DUP candidates to suspend their campaigning today.
"22 dead including children. Horrific injuries. Terrorism must never win."
Sinn Féin's Stormont leader Michelle O'Neill said: "I, like many others, watched with shock and horror as the events unfolded overnight and the scale of this terrible attack became known.
"For something like that to happen while young people are out enjoying themselves is unthinkable.
"My thoughts are with the families and friends of all those who have lost loved ones and those who were injured, as well as the emergency services who attended the scene of this tragedy."
Her party has also cancelled all election campaigning for the day.