BY TIM HEDGLEY, GROUP TRAVEL EDITOR
WITH the Summer school holidays just over two months away, many families are now actively scouting for great deals to take advantage of.
Book with Eurocamp and you could save up to 30% on your trip – without comprising on the quality of the experience.
The family holiday specialist has a wide selection of European parcs available at a discounted rate for holidays starting early July.
LA CROIX DU VIEUX PONT: families will be amazed by the unique charms of the Aisne Valley region, with its gently flowing rivers and sleepy towns. The parc offers a stunning landscape, with its own beach lagoon surrounded by woodland. Children can enjoy four pools while parents take turns to relax in the resort's spa and wellness centre. Among the many available activities are crazy golf, laser quest and fishing. TOP DEAL: Stay in a 2-bed Vista from £686 per week, per party arriving 8th July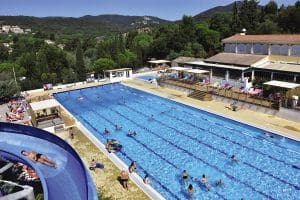 DOMAINE DES NAIADES is a large wooded resort that lies just above Port Grimaud.
From this colourful harbour town you can sail to St Tropez and get a real flavour for the Côte d'Azur.
Back on parc you will find fantastic facilities, including an Olympic-sized pool.
Enjoy a wide range of sporting activities before settling in for some great evening entertainment. The parc has its own open-air cinema.
TOP DEAL: Stay in a 2-bed Classic from £619 per week, per party arriving 1st July
LA CHAPPELLE: close to the superb town of Collioure and in the foothills of the Pyrenees, this parc is a great alternative for those looking for a seaside holiday on a budget. Just 200 metres from unspoilt, sandy beaches and boasting its own sprawling pool complex, it will keep children and adults of all ages entertained.
TOP DEAL: Stay in a 2-bed Esprit from £936 per week, per party arriving 2nd July
LES ECUREUILS: there is something about miles of sand on your doorstep and this gem located in the striking Vendee region has plenty of it. Venture out for a family trip to La Route du Sel, where you can hire canoes to retrace the old salt routes. Or visit Vieux Château, the striking landmark of Ile d'Yeu, and enjoy breathtaking panoramic views from the cliff tops.
TOP DEAL: Stay in a premium 3-bed Avant from £753 per week, per party arriving 1st July
CHATEAU DE GALINEE is an authentic, family-run parc close to the charming resort of St. Cast, offering a genuinely peaceful atmosphere. Get up close and personal with nature at the Grand Aquarium in St Malo (18m away) or visit Château Bourbansais (24m from parc), a beautiful 16th century castle now home to a large zoo where over 500 animal species wander around freely.
TOP DEAL: Stay in a 3-bed Esprit from £667 per week, per party arriving 4th July