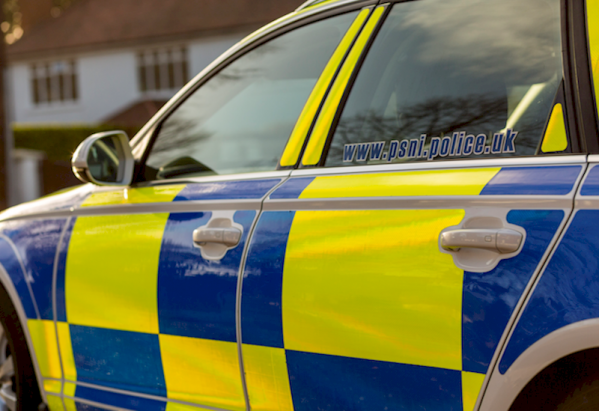 A hairdressing salon in Larne town centre was destroyed in a fire last night in what has been claimed as a "deliberate attack linked to a gang feud".
The incident follows three days of arson attacks in Larne and a suspected petrol bomb attack against a mother and her children yesterday morning.
Fire crews were still attending the blaze of the two storey premises on Main Street late last night while a heavy police presence remained in the area.
It's believed a car was reversed directly into the salon and set alight.
On Monday night, a hairdressers was extensively damaged after a car was reversed into it and set on fire.
It's believed one man travelled to the scene in the vehicle, a grey Nissan Primera, and then fled on a blue and white motorcycle driven by a second person.
There were also arson attacks on eight cars between Saturday night and Monday morning.
A 30 year old man was arrested on Saturday and subsequently charged with GBH and possession of an offensive weapon.
He is expected to appear in court in Ballymena on 11 May.
The second man, 32, was detained on Monday.
He has since been charged with common assault and making threats to damage property.
He is due to appear at Ballymena Magistrates Court on 4 May.
Detective Chief Inspector Dunny McCubbin said: "This was a mindless and reckless attack by individuals who have shown no concern for the people of Larne and no respect for the business people trying to make a living in the town.
"This business has been devastated by this attack and there can be no excuse or justification for what happened here last night.
"We are currently investigating a possible link between this incident and other attacks on vehicles in the town over the course of the weekend.
"At this time it's thought a falling out between two individuals may be the catalyst for these incidents however as the investigation is at a very early stage it wouldn't be appropriate to comment further on that particular line of enquiry."
Former Sinn Fein MLA Oliver McMullan said he was furious over the attacks saying Larne was "getting more like Beirut every day".
"There's a direct connection to this attack and the cars burnt out in Larne over the weekend," he said.
"This car was driven deliberately into the hairdressers shop and the people in the car got out and set it on fire.
"I feel very mad and angry about this. I've been going on about this for years, unless the criminality is caught by the scruff of the neck in Larne it's going to get out of hand."
Mr McMullan said the man behind the crime spree was a "major gang leader who is exerting his authority over another family, put it that way. It's the same people doing all of this, the dogs in the street could name you every one of them doing it."
He called for community policing to be restored to Larne saying Larne was becoming more and more "like Beirut" every day.
In the early hours of yesterday morning a mother and her young children in Larne escaped injury in a suspected petrol bombing.
The front window of a house on Mill Road was smashed during the incident and police recovered a petrol-soaked rag, possibly from an unlit petrol bomb, from the porch of the property close to where a vehicle was targeted.
A second car was targeted on Bryan Street in the latest of a spate of arson attacks in the town.
East Antrim MLA Stewart Dickson has strongly condemned those behind continued arson attacks in Larne.
Describing the situation as 'extremely serious', the Alliance MLA has appealed for anyone with information to contact the police immediately, as premises in the town centre became the latest target of those orchestrating the attacks.
"It is very important that whoever is doing this is arrested and hopefully put behind bars."