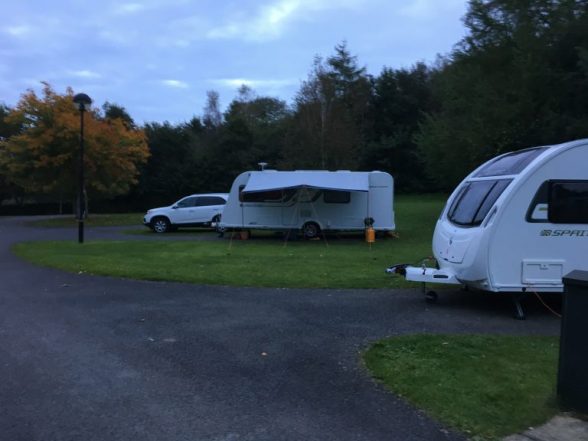 BY TIM HEDGLEY, GROUP TRAVEL EDITOR
ACCORDING to a recent report the number of caravans and motorhomes is set to soar by more than 50,000 in the next five years.
And that will mean a staggering 807,000 of them to generate local spending and visit attractions, but in Belfast there is nowhere to park your motorhome or Caravan.
Londonderry or Legenderry has recently granted permission fro a new Motorhome and Caravan park, Dungannon has one, Larne has one, even Dundonald has one but there is nothing in Belfast City.
There is little doubt the homegrown holidays are becoming far more popular in the UK, thanks to global terrorism and its clear that many UK citizens choose to stay at home for their holidays.
Stena Line provides amazing prices for Caravan Club members to travel across the Irish Sea, but when they get to Belfast where do they go?
Well out of Belfast is the answer, as there is simply no provision for the Caravan or Motorhome in Belfast.
The closest two parks to Belfast are provided by Antrim and Newtownabbey Council and Lisburn and Castlereagh council, yet most of the visitors travel into Belfast.
As a regular Caravaner I have used both parks and only last Saturday I drove a German family into Belfast from Jordanstown Loughshore Park Caravan site to show them the sites of Belfast and take them to the wonderful Titanic experience.
They had planned to visit the north Coast that day and only due to my intervention and advice did I persuade them to visit Belfast.
So come on Belfast City Council provide a motorhome / caravan park and generate some home grown investment in this wonderful city.
Belfastdaily.co.uk's travel editor, Tim Hedgley has visited most of the Caravan Parks in Northern Ireland over the last year and he is well aware of the provision that is on offer to the traveling caravan/ motorhome community.
Tim explained:
Without doubt the best Caravan Park in Northern Ireland is Rushin house in Belcoo, (www.rushinhousecaravanpark.com) Brenda and Cahal run this caravan park with the visitor in mind. Its spotless facilities and superb location give it the ability to win countless awards from the Caravan community from around the UK. To be listed in the top 100 sites for Practical Caravaner magazine and Practical motorhome magazine is no mean feat and it is their attention to detail and their award winning service that makes them consistent winners of awards each year.
Second in my list of great NI sites is Ballyness Caravan Park, Bushmills. (www.ballynesscaravanpark.com)
Ballyness is blessed with spotless pitches a great facilities block and superb facilities. It boasts fifty touring pitches, which are laid out in three landscaped areas.
The lower circle is overlooking or close to the ponds and the upper circles are nearer to the play park.
Each touring pitch has hard standing with individual electric, water and drainage hook-ups and is large enough to park a car beside the caravan.
Dogs are very welcome.
It has an excellent shop and wonderful advice from the owners.
Make no mistake, if you are going to visit the North Coast it has to be Ballyness.
Best Council Site
Best council provided site has to go to Dungannon Park (www.midulstercouncil.org)
Midulster Council recently upgraded their toilet and shower facilities to what can only be described as five star. They are simply fantastic.
Trust me you would not get better in a five star hotel.
If you have a lakeside view pitch, you are in for a real treat.
Now having married a Dungannon girl, I know Dungannon is not the first place to come to mind when touring but this is a great place to stop. Not least because Cookstown caravans are not too far away.
Second place goes to Sixmilewater Caravan Park. (www.antrimandnewtownabbey.gov.uk)
Antrim and Newtownabbey Council have invested heavily in Caravan and Motorhome parks and they deserve great credit for their foresight in this emerging tourism area.
Antrim is a firm favourite with Caravaner's and on many weekends you will find they are booked up.
May brings the Mayflies, but don't be put off it's a great site and there are lots of activities in Antrim which is only a short walk away.
Toilet block needs updating but its still good.
A close third is Jordanstown Lough Shore Park at Whiteabbey. (www.antrimandnewtownabbey.gov.uk)
This is the baby of Caravan sites in Northern Ireland and its proximity to Belfast makes it a firm favourite with the tourists.
Great toilet facilities and recently extended free Wi-Fi makes this a great site.
With a bus stop just outside the site and a wonderful coffee shop, which is open 7 days a week makes this a "great place to visit"