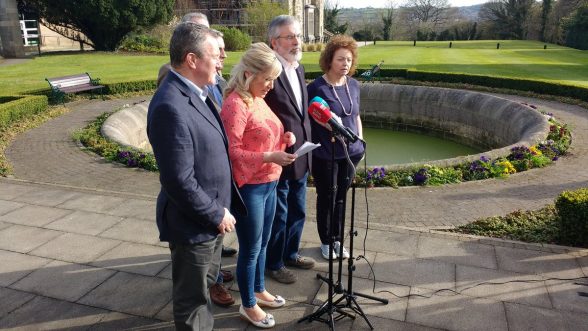 NORTHERN Ireland could be going back to the polls in June as crunch talks at Stormont appear to have broken down without agreement.
Sinn Féin has said the current phase of the inter-party discussions at Stormont Castle has run its course.
The party said it will not nominate its Stormont leader Michelle O'Neill as deputy first minister on Monday.
The decision means no power-sharing executive can be formed in time for Monday afternoon's formal deadline.
"Today we have come to the end of the road," Mrs O'Neill said.
"The talks process has run its course and Sinn Féin will not be nominating for the position of speaker or for the executive office tomorrow."
She said the party remained committed to making the power-sharing institutions work.
The parties have until 4 pm on Monday to resolve issues that divide them.
But if they fail Secretary of State James Brokenshire will call another snap Assembly election, this time in June.
Sinn Féin leader Gerry Adams said: "We don't have the terms now to go forward and nominate for a speaker as Michelle has pointed out, or for a first, or a deputy first, minister.
"That's today. She also said, and I endorse this absolutely, that we do believe that we will have the conditions in the time ahead, because we want to be in the institutions."
He added: "Will we be back, will we get the institutions in place? Yes."
But with Sinn Fein and the DUP currently poles apart on an Irish Langauge Act and legacy issues, it could be some time before the institutions are back up and running, leaving the province in a political limbo.