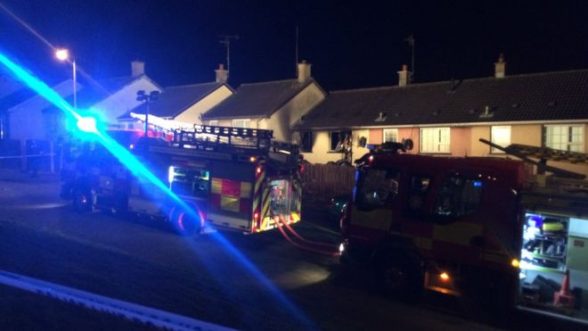 A MAN has died following a house fire.
Around 30 firefighters tackled the blaze at Culdee Drive in Armagh city.
Crews were called to the scene at 20:40 GMT on Friday.
The NI Fire and Rescue Service (NIFRS) confirmed that five appliances were in attendance.
The ambulance service said two people were treated for the effect of smoke and fumes.
NIFRS Commander Mark Smyth said it was an "intense fire" and investigations as to how it started were ongoing.
Group commander Dermot Rooney for the Northern Ireland Fire and Rescue Service said:
"We're currently attending a very serious incident in the Culdee Drive area of Armagh.
"We have five fire appliances and 30 officers attending."
Culdee Drive is a tightly-packed terraced street of former Housing Executive properties.
Armagh Lord Mayor Garath Keating was at the scene and described a sight of devastation with some survivors blackened by the smoke as they attempted to rescue others.
"This is a traumatic event for everyone. It is a tragedy," he said.
"My thoughts are with the man's close and extended family. I am sure the community will rally round to support them at this traumatic time."
Local SDLP councillor Mealla Campbell said "This is a tragedy. My thoughts are with the family of the man who died. This will be a very traumatic time for them."