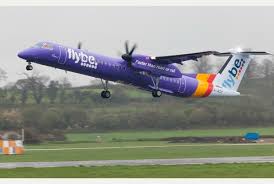 PASSENGERS were left shocked today when the PSNI boarded a London-bound plane and took a male passenger off over concerns about his footwear.
The drama unfolded as a Flybe flight was about to leave from the George Belfast Belfast City Airport to London City airport at 1.30 pm today.
A passenger told Belfast Daily: "We were sitting on the tarmac when PSNI officers came onto the plane.
"They walked down the gantry and went to a man sitting a few seats in front of men. He looked like a farmer type of person.
"They asked him to come with them and off they went.
"All we were told was that there was an issue with his footwear and they wanted them to be re-scanned again on the X-Ray machine.
"Some concern must have show on the plane's manifest or something."
The passenger added that they remained on the tarmac for over an hour while the man was taken back into the airport's security department for his foot wear to be electronically examined.
Around 2.35 pm, the passenger rejoined the flight much to the relief of the passengers on board.
"He has been given the all clear and we are now allowed to carry on with out flight," added the passenger before ending the call.
The PSNI said the incident had nothing to with it and directed inquiries to the Belfast Harbour Police.
Belfast Harbout Police told Belfast Daily: "It had nothing to do with us. You may contact the PSNI."
The flight left Belfast City Airport at 2.50 pm and is now estimated to arrive at London City Airport at 4.15 pm.