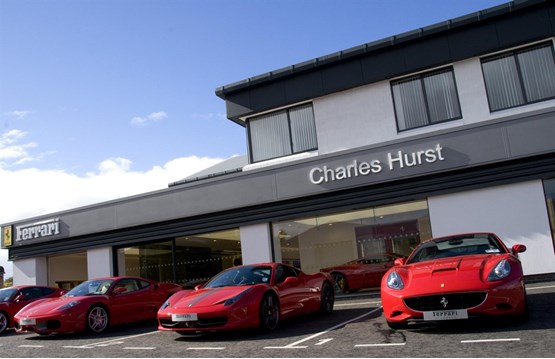 REVEALED:  A LEADING Belfast car dealership raked in over £250,000 to heat its plush Ferrari showroom,' cash-for-ash' figures reveal.
And in one year alone Charles Hurst Ltd burned £69,000 of public cash – the price of a second Ferrari 360M Modena it has currently for sale at its Belfast showroom.
Government officials at the Department for the Economy yesterday released names of firms that receive a Renewable Heat Incentive (RHI) subsidy – dubbed the 'cash-for-ash' scandal.
For every £1 of wood chips which went up in smoke in the 97kwh solid biomass burner, those on the scheme received £1.60 in return
DETI published details on website but the information only covers about half of those in receipt of payments.
Firms that received more than £5,000 have been named.
But people who applied as individuals, not companies, have not yet been named.
A judge has ruled they cannot be name until data protection checks have been carried out.
One company revealed that took up the scheme was Charles Hurst Ltd which has a massive dealership compound on Belfast's Boucher Road.
Last December, it was revealed that Charles Hurst availed of the RHI scheme to heat up its Ferrari showroom.
According to DETI figures, Charles Hurst claimed a total of £257,145.38pover a two year period up to October 2015 for a total of 10 boilers.
For July 3, 2013, it received a whopping £69,136,30p.
There is no suggestion Charles Hurst did anything wrong.
In a statement, the company said: "Like many businesses and organisations across Northern Ireland, Charles Hurst legitimately and fairly engaged with the RHI scheme based on the information which was provided and which was publicly available at the time.
"As a responsible business with almost 1,000 staff at locations across Northern Ireland, reducing our carbon footprint is a key priority for us and the scheme as it was presented was usefully employed to assist us in meeting that requirement.
"Charles Hurst entered into the scheme entirely in good faith and we publicly and specifically outlined our engagement at the time, as well as the environmental benefits which it offered.
"At no stage did we seek to disadvantage taxpayers and we were not in receipt of any knowledge at the time that this might be the case.
"It was our understanding when we invested in the equipment required to support our participation in the RHI scheme that the funding available was ring-fenced by the Northern Ireland government to support the overall objectives of the scheme, to ensure its success and to promote legitimate take-up from businesses across a variety of sectors.
"Given the information that has come to light, we will be undertaking a review of the scheme and how it applies to our business."