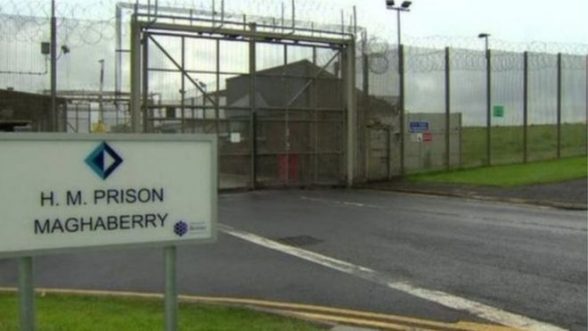 prison officer stabbed in the neck inside a top security powderkeg jail has been discharged from hospital.
Detectives treating the attack as attempted murder.
The alarm was raised shortly before 6 pm yesterday evening at Maghaberry prison in Co Antrim.
The PSNI say the female warder – who hasn't been long in her new job – suffered a serious neck wound after she was attacked by an inmate with a sharp implement.
Colleagues rushed to her aid before she was rushed to hospital by ambulance.
Following stitches to her neck wound, the officer has since been discharged and will be off work for several weeks.
Detectives from the PSNI's Reactive and Organised Crime Branch are currently investigating the murder bid.
Adrian Smith from the Prison Officers Association (POA) said the woman was one of the new prison officers in the jail.
He said he believed she was attacked with a weapon "made from a razor".
"She has an approximately three inch deep cut below her left ear," he said.
"With the ever increasing budget cuts, I believe this will happen more often," he added.
A Prison Service spokesperson said: "The Prison Service utterly condemns this attack and has referred the incident to the PSNI".