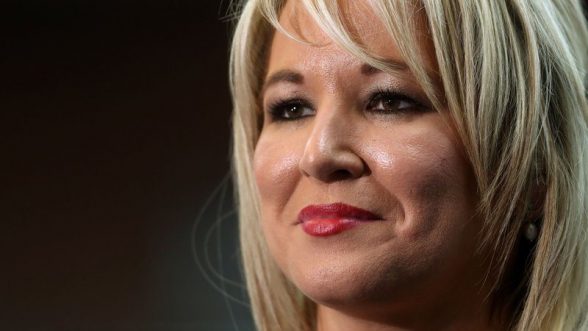 IT looks like Sinn Fein and the DUP will be returned as the top two parties in the Assembly '17 elections.
But who will be First Minster?
Sinn Fein is confident it will get enough seats to put forward its Northern leader Michelle O'Neill (pictured above) who topped the poll in her own constituency.
But the DUP believe it can still be the leading party even though it has lost seats.
Turnout was the key, up 10% on last year's election, Sinn Féin having harnessed a sense of grievance and converted it into votes.
The DUP is on course to lose six of it's 38 seats and a series of bad bounces could see that from to eight, nine or ten.
The only consolation for the DUP is that the UUP are having a worse election.
The knives will be out for leader Mike Nesbitt after he said he would give second preference votes to the SdLP.
They will hold eight of their 16 seats, but the remainder are in the balance.
A big UUP casualty was Danny Kennedy who lost his seat in Newry and Moure. He said:
"I am devastate. I have represented Newry and Mourne since 1998."
The SDLP will lose at least two of it's 12 seats and anything less than nine would be disappointing.
Alliance, like Sinn Féin, are holding their own while all around them are losing ground.
For leader Naomi Long, it could be the encouragement to go from opposition to government – that's a big if.
Sinn Féin's Orlaithi Flynn and Alex Maskey have been elected in West Belfast, Maskey regaining the seat he lost last time out.
The party look set to take four of the five seats, the other going to People Before Profit.
The big casualty was SDLP stalwart Alex Maskey who lost his seat after 18 years.
The Alliance party's Naomi Long is the only candidate elected in East Belfast.
Her party colleague Chris Lyttle, the DUP's Joanne Bunting and Robin Newton and the UUP's Andy Allen should take the others.
No candidate has been elected in North Belfast but the DUP are in danger of losing a seat, possibly Nelson McCausland.
Sinn Féin will probably take two and the SDLP's Nicola Mallon is very close to the quota.
In Belfast South, Máirtín O Muilleoir topped the poll and was elected on the first count.
Claire Hanna (SDLP) and Paula Bradshaw (Alliance) look on course to be elected so Christopher Stalford (DUP), Emma Little Pengelly (DUP) and the Green Party's Clare Bailey will fight it out for the last seat.