BELFAST'S five-star Merchant Hotel has appointed a new dedicated Proposal Curator to take the stress out of popping the question.
Arlene Malone, owner of proposal planning website, www.Propose2Me.com has been working with The Merchant for over 12 months, following the launch of her novel business in late 2015.
Steady demand for the service has led to The Merchant appointing Arlene in a dedicated role.
Ideally timed to with one of the busiest seasons for proposals from Valentine's Day on into spring, the news is sure to excite people that are planning to pop the question but aren't sure how to go about it.
Co. Louth based businesswoman, Arlene Malone is now on a mission to dial up the romance in the city.
The Merchant's new proposal curator will help men and women from all over Ireland and abroad to make that one lifetime memory the perfect moment.
All the proposer is left to do is utter those four little but very special words, "Will you marry me?"
Whilst there are plenty of wedding planners out there, Arlene is Ireland's only marriage proposal planning company. Over the last 12 months, she has helped over 60 people pop the question, including almost 20 proposals at The Merchant Hotel.
Commenting on her appointment, Arlene Malone, Proposal Curator at Propose2Me says the site is already drawing lots of interest:
"In society today, there's increasing pressure on people to get their proposal just right and people are increasingly time poor.
"Over the last 12 months, we've helped over 60 people to plan their perfect proposals and I'm delighted to be joining forces with The Merchant – it's synonymous with luxury and romance and is the perfect place to plan an unforgettable proposal.
"People have been travelling from far and wide for an engagement experience here and Belfast as a location has so much to offer to. We can plan a romantic picnic, a helicopter ride over the city; the possibilities are endless."
In Northern Ireland Arlene's exclusive hotel partner is The Merchant Hotel and Arlene has been busy  working with the hotel to develop a suite of perfect proposals – from a private dinner in the hotel's rooftop garden to a private candlelit suite or champagne overlooking the city skyline, the options are endless.
"We have also enlisted the help of leading jewellers, Lunn's and their brand Portfolio of Fine Diamonds, to ensure that the perfect diamond is presented at the perfect proposal, says Arlene.
"We will work within a client's budget – whatever that may be. Our service is totally bespoke and tailored to the particular desires of the spouse to ensure a highly personalised service."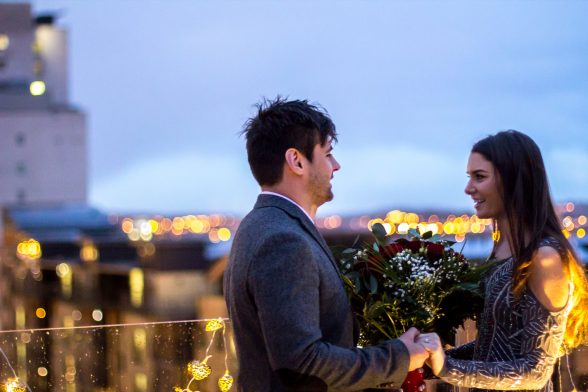 Proposal packages include The Rooftop Proposal, which includes private rooftop hire at The Merchant for two hours; The Ultimate Suite Proposal, which includes a sumptuous Victorian suite at The Merchant decorated to your specification; a Rolls Royce package, which includes a chauffeur driven ride in The Merchant's Rolls; a Horse Drawn Carriage package or an eight-course tasting menu experience, either in The Merchant's Great Room restaurant or as a private dining experience.
For further information, visit www.themerchanthotel.com/proposals or email proposals@themerchanthotel.com