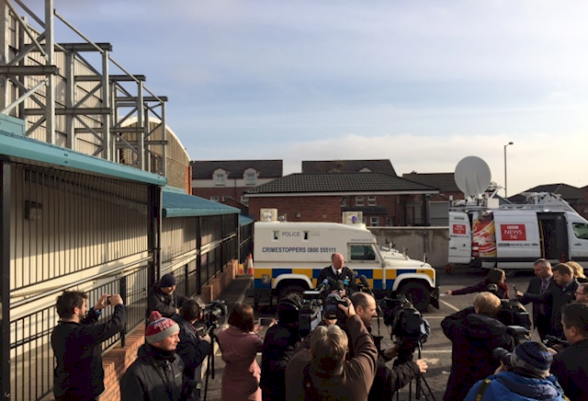 PSNI Chief Constable George Hamilton has branded the attack on a police officer in north Belfast last night as 'attempted murder'.
Speaking at a press conference at Tennent Street police station at lunchtime today, Monday 23 January, he said:
"It's very fortunate that we're not standing here today making an appeal around a murder investigation, albeit it's clearly the attempted murder of police officers and others.
"I've been to visit the officer who was wounded in the attack last night. The officer appears to have been struck three times on the right arm, causing fairly significant damage.
"He was in theatre for over three hours and will have further surgery in the days ahead.
"He is in good spirits. I never cease to be amazed by the bravery and professionalism of police officers like him that I come across on a daily basis.
"Once again I would just simply condemn this despicable attack, an act of complete recklessness.
"The Crumlin Road filling station was riddled with high velocity gunfire at half past seven when people were going about their normal business, going to fill their car with fuel, buying lunches for children and all of that.
"We, as police officers, are citizens in uniform. This officer was a member of the community. He was attacked but actually, other members of the community were put at massive risk as well.
"The people who did this did not care who they murdered last night – albeit it's clear this attack was aimed at the police officer on duty.
"I would simply appeal to anyone out there who has information, help us bring those responsible to justice.  In the interests of protecting your own community and making it a safer place, bring that information forward so we can flush these people out and bring them to book for this attempt to murder members of the community.
"We want police officers to be public servants, out there serving the community. We need to balance that with a policing style that allows them to protect themselves .
"We want to police with the community, we want to be engaged with the community, we want to be visible and accessible to communities and we will continue to do that.  This is where we need community cooperation and community help to assist us, to help us help them protect these communities."
A 36 year old man arrested in connection with the incident remains in custody at this stage, assisting police with their enquiries.