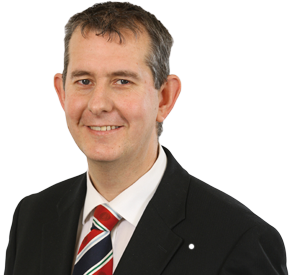 DUP MLA Edwin Poots has claimed his party never agreed to bring in an Irish Language Act.
The commitment was made in the 2007 St Andrew's Agreement when Ian Paisley was party leader.
The former Health Minister  told the BBC's Nolan programme this morning: "We never, ever, ever agreed to an Irish Language Act.
"What language people want to speak is entirely up to themselves, but I am not prepared to have millions and tens of millions taken away from health and all the other things we have to do."
He said the clause was inserted into the agreement as part of a "side deal" between Gerry Adams and the then British Prime Minister Tony Blair.
He said the party had honoured "everything they agreed to do" at the negotiations, describing the insertion of the clause as a "dishonourable act" by Tony Blair.
Mr Poots once told a reporter that when he was Culture Minister he did everything he could to "bury the Irish Language".
Sinn Fein's Conor Murphy said Mr Poots' comments showed how hard it was to do business with the DUP.
On December 23, Lagan Valley colleague, MLA and Communities Minister Paul Givan announced that he was withdrawing a £50,000 bursary scheme to the Gaeltacht in Donegal.
However, last week he was forced to do a dramatic U-turn when he announced that he had now found the funding for the Liofa scheme.
That decision was mocked by TUV leader Jim Allister who sniped: "Where did he find the money? Down the back of a boiler?"