FIRST Minister Arlene Foster has again said she will not stand down over the botched Renewable Heat Incentive (RHI) scheme set up under her watch.
Playing the female card, the DUP leader said calls for her to do so were "misogynistic".
Mrs Foster set up the scheme in 2012 when she was minister for enterprise, trade and investment  to increase consumption of heat from renewable sources.
But it was revealed last month that RHI is around £400 million over budget – and has been branded the 'cash-for-ash' scandal.
Mrs Foster told Sky News she would not stand aside as she had done nothing wrong.
She claimed some of the calls for her to do so were personal and some were because of her gender.
"There's a lot of it personal. There's a lot of it, sadly, misogynistic as well, because I'm a female, the first female leader of Northern Ireland," she said.
"I'm here because the electorate put me into this position. I take the responsibility very, very seriously and I intend to see it through."
Mrs Foster accused Sinn Féin of being on a "party political mission" to get her to stand aside in order to weaken unionism.
"Just because I'm a woman, it doesn't mean I'm going to roll over to Sinn Féin. I'm not going to roll over to Sinn Féin. I'm not going to roll over to my political opponents," she said.
"I'm going to deal with the issues in front of me because that's what the electorate want me to do."
Economy Minister Simon Hamilton backed his party leader: "If you go and do even the simplest of searches online and social media you will find some quite venomous, some quite nasty criticism of Arlene personally – abusive of her personally – much of which is gender based.
"The criticism being stoked by some within the media and other political parties for their particular reasons is then fuelling that abuse."
Mr Hamilton said over the holiday period he and Mrs Foster had been "working on our preferred option for cost control, that is an option that will come at no cost to the Northern Ireland budget and will keep the scheme running as originally intended".
"We need to take some further legal advice around that, but that's the plan that we're working on, a plan that will reduce that liability to effectively zero."
Last month, she apologised for a lack of cost controls but defended her own role in the scheme.
Businesses were receiving more in subsidies than they were paying for renewable fuel and the scheme became majorly oversubscribed.
Other politicians have dismissed Mrs Foster's allegations of misogyny.
Sinn Fein's Health Minister Michelle O'Neill said: "This is not an Orange and Green issue, or a gender issue.
"This is about a financial scandal which has the potential to cost the public purse hundreds of millions of pounds".
She also said her party's ministerial team is meeting on Wednesday to discuss the issue.
"The DUP are in denial about the growing public outrage at the misuse of public funds in the RHI scheme and the serious allegations of incompetence, corruption and abuse".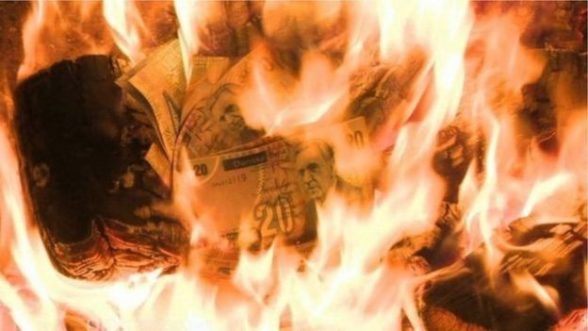 SDLP MLA Nichola Mallon said her party's response to: "… this financial fiasco, the biggest financial scandal to hit this place in the history of devolution would be the same regardless of whether it was a man or a woman at the heart of it all, or whether for that matter it was a unionist or nationalist".
She added: "This has absolutely nothing to do with Arlene Foster being a woman or being a unionist, this is about incompetence, with possible corruption and with unquestionable arrogance from the minister at the heart of it all – Arlene Foster."
TUV leader Jim Allister said that for Mrs Foster to suggest misogyny was behind criticism of her was "beyond belief".
"What lies behind this is great public distaste and unease about the squander of public money, squander made in Stormont, a squander made by Arlene Foster.
"It's nothing to do with gender, it's the fact that she authored the RHI scheme."