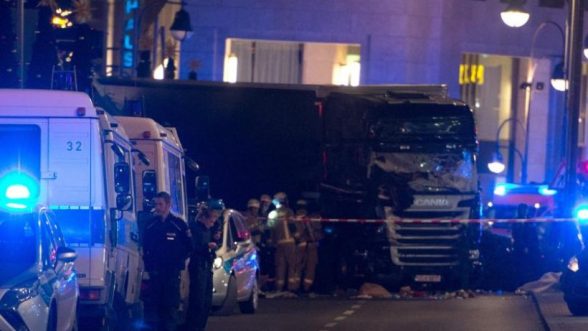 NINE people have died and many more injured after an articulated lorry has ploughed into a busy Christmas market in the heart of Berlin.
And German police are warning that the death toll may rise given the injuries sustained by some shoppers.
Police say they suspect it was deliberate but have not yet confirmed if it was a terror attack.
Video shows stalls knocked over and people lying injured.
A suspicious person was arrested nearby, while what police describe as a passenger was found dead, police say.
The market is at Breitscheidplatz, close to the Kurfuerstendamm, the main shopping street in the city's west.
Chancellor Angela Merkel has been in contact with the interior minister and the mayor of Berlin, her spokesman, Steffen Seibert, tweeted.
"We are in mourning for the dead and hope that the many injured can get help," he added.
German President Joachim Gauck said in a statement that it was an "awful evening for Berlin and for our country".
As emergency vehicles filled the area, Berlin police said they had "no indications of further dangerous situations in the city near #Breitscheidplatz".
They also appealed to the public to avoid the area and stay at home. They issued a number for those concerned about loved ones to call: +49 30 54023 111.
According to the DPA news agency, police believe the lorry drove 50-80 metres (54-87 yards) through the market area during the incident, which occurred at 8.15 pm local time (7.14 pm GMT).
"We are investigating whether it was a terror attack but do not yet know what was behind it," a police spokesman told AFP news agency.
"One person was detained. The cab of the truck was found empty."
Images of the lorry show it was registered in neighbouring Poland and Polish media are suggesting it may have been stolen earlier on Monday.
The Polish haulage company which uses the vehicle has reportedly been unable to get in touch with the original driver, a Polish national, since 4 pm (3 pm ).
A British eyewitness, Mike Fox, told The Associated Press at the scene that the large lorry had missed him by only about 3m as it drove into the market, tearing through tables and wooden stands.
"It was definitely deliberate," said the tourist, visiting from Birmingham.
He said he had helped people who appeared to have broken limbs, and that others were trapped under Christmas stands.
Jan Hollitzer, deputy editor in chief of Berliner Morgenpost, told CNN: "I heard a big noise and then I moved on the Christmas market and saw much chaos… many injured people. It was really traumatic."
The Berliner Zeitung reports that police have set up a meeting point for relatives at the scene.
A photographer for the DPA news agency said that armed police were at an entrance to the nearby zoo.
The market is situated at the foot of the Kaiser Wilhelm memorial church, which was kept as a bombed-out ruin after World War Two.
A series of small-scale attacks by Islamist militants alarmed Germany earlier this year.
Monday's incident evoked memories of the lorry attack on Bastille Day crowds in the French city of Nice on 14 July, when 86 people were killed.
That attack was claimed by so-called Islamic State.
Reacting to the news from Berlin, Nice Mayor Christian Estrosi tweeted: "Horror in Berlin. Support for the mayor of Berlin and the German people. never again."