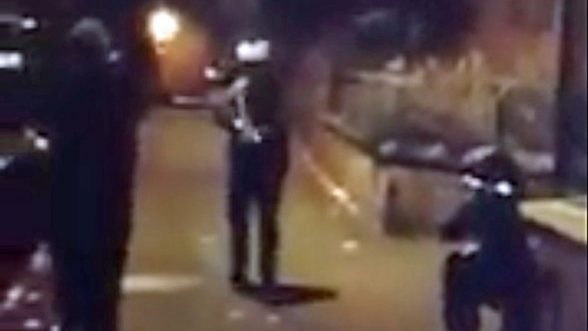 POLICE Are investigating after footage emerged which appears to show dissidents armed with rocket launchers in north Belfast.
The footage, recorded on a mobile phone, has been circulated on social media.
The video shows masked men apparently armed with a rocket launcher and machine guns.
The PSNI said the footage was circulated to "frighten and cause stress to the local community."
In a macabre twist, the footage was filmed in Butler Place where the 'New IRA' shot dead taxi driver Michael McGibbon earlier this year.
Several masked men called at his house and told him to go outside where he was taken to an alleyway and shot in the legs.
But one of the bullets severed the main artery in his leg and bled to death as his wife tried to tend to his injuries.
His 33-year-old widow Joanne, who fled her home after the attack with her children, the footage as both "sad and disgusting".
The RVH nurse added: "It couldn't be more shocking if they had come into my home and done it," she said.
"It is not surprising, though, as they are the type of people who don't care about anything but money, drugs and power."
But she says they have no support in the community and it was time they were taken off the streets.
Alliance MLA and justice spokesperson Trevor Lunn condemned those behind the incident.
"There can be no place in our society for masked gunmen and paramilitary shows of strength," he said.
"Guns do not belong on the street and I know the vast majority of people in the area will be as disgusted by this incident as I am.
"If we are to have a truly shared future and united community, this sort of unacceptable display should be consigned to the past.
"If anyone has any information on this display, I encourage them to bring it to the police immediately."
In a statement, local Supt Darrin Jones said: "We are investigating reports of footage in social media of masked and armed men in the area of North Belfast.
"Enquiries are ongoing."