DEPUTY First Minister Martin McGuinness can sleep easier in his bed tonight knowing that the man who planned to expose his involvement in murders was finally buried today.
In a quiet part of Kent, a small and dignified funeral service was held for Raymond Gilmour by his family.
He was described by those who knew him as the "bravest of the brave" in his work over 30 years ago in trying to smash the IRA and INLA in Derry for the RUC Special Branch.
His funeral took place today exactly five weeks after his decomposed body was found in a flat in England.
Family friends say the 55-year-old's body was finally released to his grieving family despite the exact cause of death still not known.
Close friend and former RUC officer Chris Norman travelled over from Northern Ireland today to pay his respects but was refused admission to the service.
"Myself and three other ex-security force members were pulled by two men in a blue BMW car at the cemetery.
"They were dressed in plain clothes and showed badges with the Crown symbol on them.
"They were either police or military of maybe even MI5 agents.
"The security personnel said that the family had requested family only at the service. ''
It is understood the funeral was a small, low key with only a few family members present.
Gilmour is buried in a cemetery which fittingly has a tombstone to all those who lost their lives between 1939 and 1945.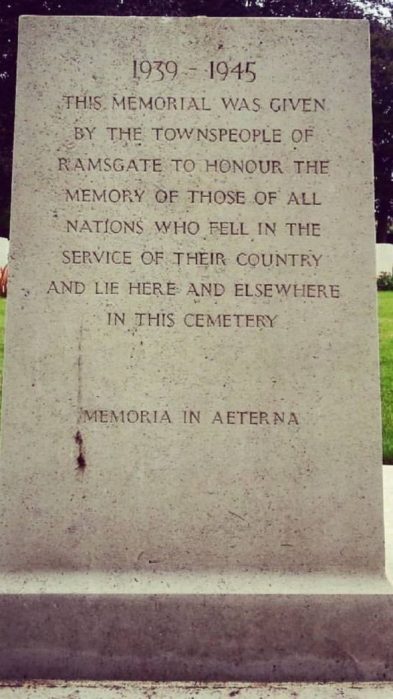 The inscription read: "This memorial was given by the townspeople of Ramsgate to honour the memory of those of all nations who fell in the service of their country and lie here and elsewhere in this cemetery.
"MEMORIA IN AETERNA (In Everlasting Remembrance)."
Added Mr Norman: "I thought this tombstone was very appropriate for Ray given what he did for his country, to try and save lives and to put republican terrorists behind bars at great personal risk to himself.
He added that Gilmour's family had been given permission by the Coroner to bury him without a death certificate.
"The toxicology report is in progress but it will probably take months to complete. The exact cause of death is yet unknown.''
Gilmour's funeral took place at 1 pm in Ramsgate Cemetery, Thanet in Kent.
"Ray's wish was always to have a small funeral in Kent as he loved it and called it home.
"Ray asked for a small, morally religious funeral.''
Gilmour was found on Thursday, October 27, by his 18-year-old from a previous marriage, his body decomposing where he died.
The discovery was made after he failed to respond to messages and calls from his family and friends.
Mr Norman said Gilmour may have been dead for up to four weeks before he was found last month in his flat.
"He wasn't answering his phone for weeks and I just thought he had gone to ground as the Police Service of Northern Ireland were looking for him,'' he added
Belfast Daily revealed last month that Gilmour was on the verge of being arrested by Kent police on behalf of the PSNI.
He was wanted by the PSNI's Terrorist Investigation Unit for withholding information about the alleged activities of Martin McGuinness.
The PSNI were liaising with Kent police to have him brought in last month to a station in Gillingham.
He was facing arrest after he gave his Belfast solicitor a statement saying that he would reveal all about convicted IRA member Martin McGuinness and his alleged involvement in several murders in his home city of Derry.
His solicitor handed the letter over at Gilmour's request to a detective chief superintendent in charge of the TIU at a Belfast police station.
Gilmour had become a lonely figure, with his life spiralling into chronic alcoholism and he was also suffering from post traumatic stress disorder.
He had been living in England under a new identity for the past 30 years after he gave evidence against fellow IRA and INLA members back in the early 1980s which became known as the 'supergrass trials'.
Codenamed 'Agent Romeo' by his RUC Special Branch handlers, he could not return home to Derry for fear he would be killed by the IRA or dissident republicans.
Gilmour had been living in England under a new identity for the past 30 years after he gave evidence against fellow IRA and INLA members back in the early 1980s which became known as the 'supergrass trials'.
His information rocked the IRA in Derry with so many members arrested on the foot of his word bombings and shootings ended in the city.
Gilmour was the only witness in the supergrass trial of 35 INLA and IRA suspects but it collapsed in 1984.
The then Lord Chief Justice Lord Lowry dismissed Gilmour's evidence as being "unworthy of belief."
Two years ago, in an exclusive interview with Belfast Daily,  Gilmour said that he would tell police the name of the man who killed census worker Joanne Mathers in the city over 30 years ago.
Gilmour said he would also reveal the name of the woman who supplied the gun used int he murder.
The mother-of-one was shot dead in 1981 as she collected census forms in the Waterside area of the city.
Speaking from his then hideaway home in England, Gilmour told Belfast Daily he had recalled the information about the woman following the publication of his book "What Price Truth?"
"This woman, who was a good looking girl in her day, came over from the Shantallow area and walked to the Waterside in the east to provide the gun.
"The murder weapon was a .357 Magnum revolver which had been stolen from the home of a part-time RUC officer.
"This girl was a courier for the IRA in the city. She never came to the attention of the police which allowed her to move easily from the west bank to the east bank of Derry."
Gilmour said during the interview he would reveal the name of the woman who "couriered" the gun and the "man who shot her."
He added: "I believe on the strength of my statements all three people should be arrested and questioned. If not, then I am just wasting my time."
Gilmour's book 'What Price Truth?', a sequel to his first called 'Dead Ground', had become one of the top selling books on Amazon.
Sales also rocketed when news of his death broke last month.
In his interview, Gilmour told us: "Martin McGuinness is now the Deputy First Minister in Northern Ireland but he appears to have forgotten all about his past in Derry.
"I mean, he was the man who taught me and republicans in Derry anti-interrogation techniques to prepare us for our arrest by the RUC and British Army."
Gilmour said he was never asked to provide any information on McGuinness when it came to his "supergrass" trial.
He first joined the INLA when he was 17 working as a covert agent for RUC Special Branch.
After a fallout, he left the INLA and joined the IRA in 1980, passing back information on Provo players and operations.
However, two years later his cover was blown when police used information he supplied to recover a machine gun.
"I brought the INLA to their knees in Derry, I brought the IRA to their knees in Derry and I saved countless lives," he said.
At the time of the interview, Gilmour said he felt "abandoned by the police, MI5 and the State".
He also feared the IRA would catch up with him one day.
But he said he was ready for them – and he had secretly bought a handgun and ammunition to protect himself as he was refused a personal protection weapon.
Tragically, Gilmour has now taken all his secrets about unsolved IRA murders in Derry to his grave in Kent.