POLICE are appealing for information after thugs vandalised a defibrillator in east Belfast at the weekend.
A local businessman has pledged that the smashed defibrillator will be back in working order as soon as possible.
The defibrillator had only been installed at Crymble and Sons funeral directors for a week when it was vandalised on Sunday afternoon.
One man has been arrested following the incident.
Andrew Crymble said they had installed the defribillator at their own cost to give something back to the community.
He watched the vandalism happening at the Woodstock Road premises on a live CCTV feed.
"I watched four gentlemen working with the defibrillator and then a gentleman punching the defibrillator," Mr Crymble said.
"This morning, we're going to put a new pane of glass into the front and get the machine checked over and put back into action.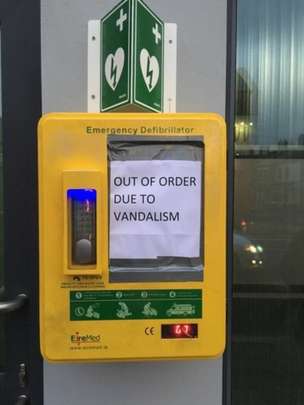 "This will not stop this machine being here, it will stay here."
Mr Crymble added: "One of the reasons I did it was that I have a friend whose oldest brother passed away about six weeks ago.
"What sustained his life for a period of time was a defibrillator [used] by his work colleagues."
Police investigating the vandalism want anyone with information about the incident to come forward.
Inspector Keith Hutchinson said: "It was reported at approximately 3 m on Sunday, four males caused criminal damage to a defibrillator outside a business premises on the Woodstock Road area of east Belfast.
"One male has since been arrested in relation to this incident and remains in police custody.
"We are appealing to anyone that may have any information or to anyone that may have witnessed any suspicious activity in the Woodstock Road area at the time to contact Strandtown Police Station on the non-emergency number 101."