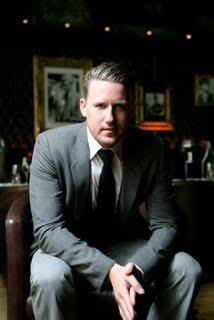 BY TIM HEDGLEY, GROUP TRAVEL EDITOR
DUNGANNON man Dezzi McCausland (pictured right) is expanding his London empire at McQueen bar in Shoreditch by opening a chic new outdoor space.
Dubbed the "Club King" and "King of Cool" Dezzi has been extremely successful and has a string of amazing clubs in London, including the celeb-haunt Kingly Club in Soho which he has now sold and his latest venture McQueen Bar in Shoreditch.
This 39-year-old King of Cool says he is also keen to expand his empire to Belfast.
Now this is good news for travel and tourism in Ireland. Dezzi moved to London when he was 19 and took over the running of The Kingly club in Soho at only 24 yrs of age, which was no mean feat for a young lad from Dungannon.
Just across the road from his award winning bar and restaurant, McQueen Outdoor aims to cater for cocktail goers and champagne sippers alike, just in time for the summer.
Dezzi says this latest venture is already attracting well known clients, "Shoreditch is a fashionable area of London and outdoor spaces are also in demand, so expanding McQueen to cater for this trend was a no brainer.
"We've only just opened and already we've had events hosted by Gary Lineker and for the legendary film director Ridley Scott.
"The McQueen bar in Shoreditch was actually used for some key scenes in the 2013 movie starring Brad Pitt 'The Counsellor'.
"With McQueen Outdoor we want to cater for those who enjoy drinking and dining alfresco but without skimping on quality or service and that's what I think we've achieved."

The terrace is on the site of an old carpark and the exposed brick echoes that of the original McQueen bar, which won a gong at this year's prestigious London Club & Bar Awards, being described as a 'fresh yet timeless concept'.
Keeping it local, work by Belfast based graffiti artist, Visual Waste (http://www.visualwaste.co.uk), dons the walls with portraits and quotes from the screen legend Steve McQueen.
This contrasts with white quilted leather sofas, black chesterfield walls and a plush bar area to give the outdoor space an industrial chic vibe.
Best friends from the age of 5 with the man behind Belfast's very own Muddlers Club, Gareth McCaughey, Mr McCausland wants to bring the authentic appeal of Belfast's food scene to London, "I visit home regularly and I am continually impressed with how much the capital is changing and I am now keen to expand into Belfast.
"It's hard somewhere the size of London to find something different but I've been inspired by the Belfast charm and wanted to mix it with the swag of London's Shoreditch to produce, hopefully, another area we can win awards in."
The cocktail bar menu is varied and the well-stocked champagne bar shows there's something for all price ranges to attract city slickers and celebrities alike.
There's also a grill with everything from chicken wings to cheeseboards and not forgetting olives to accompany your perfect serve from the bar.
The next few months will also see Dezzi and his team open the new 'Restaurant @ McQueen's' and the launch of an American-style pool room 'The Cooler' in early 2017.
Quotes about McQueen:
'Steve would have really dug this place'
Barbara McQueen
 'All in all a thoroughly enjoyable night'
Stylist Magazine
 'A lesson in cool'
View London