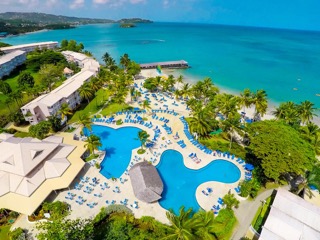 BY Adam Jacot de Boinod
ST LUCIA is steeped in history after it was fought over and colonised by the English and the French.
These days America adds her custom to this heady mix of influences. Aboriginal traits also persist with the Arawak tradition of carving out the bark of a gommier tree to use as a canoedating as far back as 200AD.
St. Lucians are a sociable lot descending on each other as neighbours over the Christmas period, They even repaint their house as an act of hospitality. Interiors are typically white while the exterior tend to be brightly coloured.
I decided to work my way up the island by road and by boat.
More than anywhere St. Lucia is best visited by being on the move. The thing to do is to change hotels every few days. For all its beauty and fecundity, the island can be quite restrictive especially if you want to stretch a leg as the beaches are small and the hillsides are steep. Each cove (which the French called anse) is a hideaway and hotels vie to offer the most romantic setting. St. Lucia wins the award for 'Honeymoon island of the Caribbean' year after year.
I descended steeply down from hills still stricken with their trees deracinated from the storm. Starting from the international airport in the south I reached the Viceroy Sugar Beach (www.viceroyhotelsandresorts.com/en/sugarbeach).
This American hotel has surely secured the choice location of the island. It's between the famous twin peaks of Gros and Petit Piton.
These upright, precipitous mountains reach over two thousand feet in height and are the consequence of an historic earthquake balancing its neighbouring sea with equal depth.
They gave me a sense of being grounded with their majestic presence dwarfing all below. I needed to see them panoramically. From the sea as well as the land. At different angles they alternate between one being a pyramid and the other a multi-faceted shape.
At the hotel the Guyanese imported white sand works perfectly and the 'New English' style of the villas' all-white interiors reinforced a sense of light, purity and space.
Off to the Tet Nature Trail for a delightful wander amongst all the wonder of such a fertile island.
Providence has given her pineapples, mangos, papaya, bananas, guava and plums to name a few.
Sometimes they're even growing all side by side. It's so amazing to see all these fruits as real vegetation rather than wrapped produce. For me almonds, coffee and chocolate are the most exciting of all.
Onwards and upwards I went past two quaint looking fishing villages. At one, called Canaries, I watched chickens crossing the street and local laundry being transported on ladies' heads and then washed in the stream in which the children splashed, sprayed and swam.
The next village along is Anse La Raye. Across the island there are specific weekly fixtures.
On Friday there is a 'Fish Friday' evening where cooked versions of the fresh catch is offered up from the stalls specially set up along the main street beside the seafront at Anse la Reye.
You can then follow it up with a  'Jump Up' street party in Gros Islet and then, the next day, there is 'Fish Saturday' in Dennery.
Onto Capella Marigot Bay (www.capellahotels.com/saintlucia)
This hotel's location couldn't be more idyllic as it overlooksits marina.Here I got a strong sense of the nautical character of St. Lucia as I lookedaround at premier yachts berthed from all over the world.
The bay is known as 'hurricane hole' from its position on the west side of the island. It's surrounded by mountains and experiences minimal tidal changes.
Yachties tinker with their equipment and there's a serenity in this secluded and secure haven. A serenity reflected in the philosophy of the hotel.
As I moved up the island the vegetation changes and the sand gets whiter. Next came St. James's Morgan Bay (www.morganbayresort.com).
The rooms have double balconies and it is beautifully set within the sound of lapping waves and has views of the sea offering stunning sunsets.
It's for those preferring organised entertainment. There's a spoiling range of six restaurants and always somewhere open to eat. Le Jardin is for the fine diners while the Bamboo has fabulous seafood salads. They lent me a sailing catamaran and off I went after one lesson. How liberating! And with their rescue service how reassuring!
Next and on past Castries the capital and onto Cap Maison (www.capmaison.com). This classy boutique villa resort has a Mediterranean feel. Spanish meets Moroccan. Walking beneath crenellated roofs, past trickling fountains, under vaulted brick corridors and through inner courtyards with birds twittering, I half expected to be responding to peeling church bells. It is located on the northernmost tip in Cap Estate, a highly exclusive area.
I took a trip to Pigeon Island. It is like a miniature version of the Pitons with her two humped hills. It was joined up to the mainland in the 1960s by a causeway that is now a picturesque tree-lined avenue. It's the best spot for snorkeling and is great for hiking as I climbed up the proudly kept nature reserve to its natural look out point.
I returned back down the Atlantic coast to the accompaniment of the brightest rainbow I had ever witnessed. A magnificent send off to such a colourful island. The calm after the Matthew storm!
Adam Jacot de Boinod worked on the first series of QI, the BBC programme compered by Stephen Fry. He is the author of The Meaning of Tingo and Other Extraordinary Words from around the World, published by Penguin Books.
ST LUCIA FACT BOX
Adam travelled courtesy of The Holiday Place. It is offering holidays to St Lucia from from £719 per person, saving up to £500 per person. Including flights and accommodation on a bed & breakfast basis. To book call 020 7644 1770 or visit holidayplace.co.uk
MAIN URL: http://holidayplace.co.uk/
DEEP URL: http://holidayplace.co.uk/holiday/caribbean-and-costa-rica/st-lucia
The Holiday Place has been creating award-winning experiences for over 30 years'. Their holidays range from luxurious to adventurous and cater for all budgets and requirements.
Adam is grateful also to Gatwick Express (www.gatwickexpress.com)
and St Lucia Tourist Board(www.saintluciauk.org)
All images courtesy of Sugar Beach, A Viceroy Resort.