A quiz team from Co Tyrone has been named the smartest in the country after winning the seventh annual McCoy's NI Pub Quiz and bagging a tasty cash prize of £1,000.
The Mighty Wanderers from Omagh battled it out against the best brains from all over Northern Ireland to lift the coveted title for the first time at The Errigle Inn on the Ormeau Road in south Belfast.
The calibre of the teams on display was highly impressive with quiz veterans from TV shows The Chase, Tipping Point,Weakest Link, Mastermind and Eggheads all doing their best to outwit each other on the night.
This year's quiz was part of the McCoy's 'When Flavour Calls' campaign and there was plenty of flavour during the finale with music, picture, TV and general knowledge rounds all served up by quizmaster and U105 presenter Johnny Hero to get people's brains ticking.
After more than two hours of intense competition, it was The Mighty Wanderers who finally emerged victorious – and a grand richer.
The winning team comprised a group of six 'brain boxes' including captain Mark Duffy, Michael Duffy, John Rafferty, Tony McConnell, Susan McGaughey and Gerry Raflewski.
Team captain Mark Duffy was ecstatic with his team's success.
"I can't believe we won," said Mark.  "We knew we had it in us as we are all quite knowledgeable when it comes to a wide range of subjects but we were well aware of the calibre of the opposition on the night and that the standard of competition would be really tough.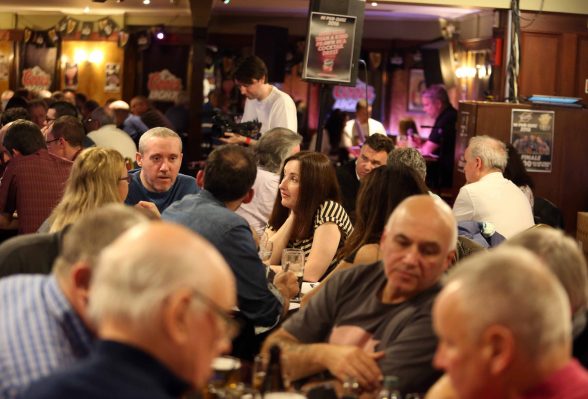 "We are absolutely over the moon to win the McCoy's NI Pub Quiz 2016 as we really enjoy a good quiz and this is our biggest achievement yet!" said Mark.
Ricky Watts, McCoy's (NI) Business Account Manager, was delighted with this year's event.
"This year was our biggest turnout yet with more than 100 people packing out the Errigle Inn for a very enjoyable competition," said Ricky.
"Every year the standard seems to get higher and higher and the teams are always so passionate in their efforts to win!
"And this time was no exception.  Our winners were hard to beat right from the start and valiant to the end which spurred on our other teams and really heated up the competition. 
"We are proud to host the McCoy's NI Pub Quiz each year.  It really has become the quiz event of the year and, despite some serious quizzing, is a great night's fun for all involved," he added.
Across the UK, McCoy's Crisps are consumed by more than a third of households and one pack is eaten every 15 seconds.
In Northern Ireland, the popular brand enjoys 100 per cent distribution across 350 symbol stores locally for its top three flavours: Flame Grilled Steak, Salt and Malt Vinegar and Cheddar and Onion.