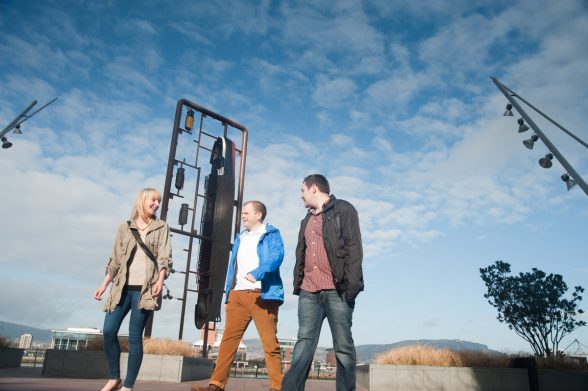 TO celebrate Titanic Belfast's recent accolade as Europe's Best Visitor attraction, Tourism Northern Ireland is encouraging everyone to find out more about Northern Ireland's rich maritime history.
Rachel Quigg, Communications & Destination PR Officer explains why a day out exploring this element of NI's history really offers something for everyone:
"There are lots of exciting tourism spots and destinations around Belfast which allow visitors to delve into Northern Ireland's rich maritime and shipping industry past. Whether you are a history buff and would like to expand your knowledge or are looking for a fun day out with family and friends, there will be something to suit your needs.
"If you haven't yet visited Titanic Belfast there is no better time as its latest accolade has named it one of the most interesting tourist destinations in the whole of Europe and if that's not enough to whet your appetite, there are lots of other spots such as HMS Caroline, SS Nomadic and many more to explore," added Rachel.
Tourism Northern Ireland has put together a range of nautical destinations to visit: 
TITANIC BELFAST
Titanic Belfast is a must see on any trip to Belfast and has become the most popular tourist attraction in Northern Ireland. The Titanic experience tells the famous story of RMS Titanic, from her conception in Belfast in the early 1900s, through her construction and launch, to her maiden voyage and tragic end. The story is told in a fresh and insightful way, with many innovative and interactive features and galleries. Other experiences on offer in Titanic Belfast include the Discovery Tour, which takes visitors inside and outside the building, following in the footsteps of those who built the ship, Afternoon Tea at Titanic Belfast in the opulent surroundings of the Titanic suite complete with the stunning replica staircase and jazz music throughout the afternoon. For more information go to http://titanicbelfast.com
HMS CAROLINE
HMS Caroline was used in combat by the Royal Navy in the First World War and is the last survivor of the Battle of Jutland still afloat. It is also one of only three surviving Royal Navy warships of the First World War, and is moored in Titanic Quarter, Belfast. The National Museum of the Royal Navy has restored HMS Caroline and converted her into a museum ship, open for all to explore. Visitors can explore a range of spaces on board such as Captain Crookes Cabin, the engine room, sick bay and galley kitchen, and discover through a mixture of historic restoration, state-of-the-art special effects and hands-on interactive exhibits, the importance of the Battle of Jutland and what life was like at sea for over three hundred crew who served on board. For more information go to www.nmrn.org.uk/exhibitions-projects/hms-caroline
SS NOMADIC
With active service as a mine sweeper and troop carrier in both World Wars, over fifty years of experience carrying passengers to the world's largest Trans-Atlantic liners and nearly thirty years as a restaurant moored beside the Eiffel Tower in Paris, SS Nomadic has a million stories to tell, and now newly refurbished, visitors can step on board and celebrate over 100 years of authentic social and maritime history. The fully interactive experience transports visitors back in time, through the first and second class lounges led by a qualified guide who will provide a unique insight into life on the Nomadic. For more information go to http://www.nomadicbelfast.com/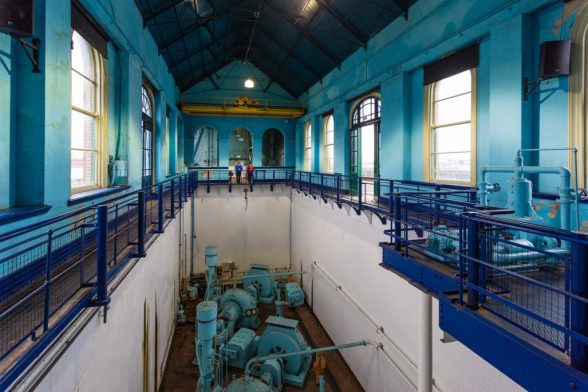 TITANIC DOCK AND PUMP HOUSE
Thompson Dry Dock and its Pump-House were once the beating heart of Harland & Wolff's operation during the construction of the great White Star Line ships, including the Titanic. The Thompson Dock itself is the footprint of Titanic and provides an amazing representation of the scale of the ship. Today the Pump-House is the only publicly accessible intact piece of Titanic's great legacy open in the city of her birthplace, Belfast. It comprises a Visitor Centre & Café with daily guided tours in operation, which are available all year round and include an interactive audio-visual display. For more information go tohttp://www.titanicsdock.com/
THE WEE TRAM
The best and most novel way to take in all of the attractions in Titanic Quarter is by the carriages inspired by the tram cars that ran through Titanic's shipyard. The Wee Tram is a hop-on-hop-off transport service around the Titanic Quarter. Passengers can really get into the spirit of things by wearing their very own Edwardian 'duncher' (the yardman's flat cap)!
The tram route is a 'figure-of-eight' continuous loop with its centre at the iconic Titanic Belfast, bringing passengers up close and personal with historic Titanic landmarks – the Drawing Offices where she was designed, the Slipways where she was built and launched, and the Thompson Dock, as well as modern attractions in the area such as the movie studios located in an old shipyard shed, T13 Urban Sports Park, and the SSE Arena. For more information go to http://www.theweetram.com/
SAMSON AND GOLIATH
Easily the most prominent visual reminders of Belfast's maritime heritage are Harland and Wolff's duo of gantry cranes, built in 1969 and 1974 and affectionately known as Samson and Goliath. These yellow cranes standing at 106m and 96m dominate the Belfast skyline and are a distinctive feature of the city. Even though shipbuilding has long ceased on Queen's Island, the cranes are kept in working order and are used for heavy lifting in Harland & Wolff's other activities such as structural engineering, ship repair and offshore construction projects. The two cranes are recognised by the Northern Ireland Environment Agency as buildings of architectural or historic interest.
For more information on things to see and do in Northern Ireland go to http://www.discovernorthernireland.com,www.facebook.com/discovernorthernireland or www.twitter.com/DiscoverNI.