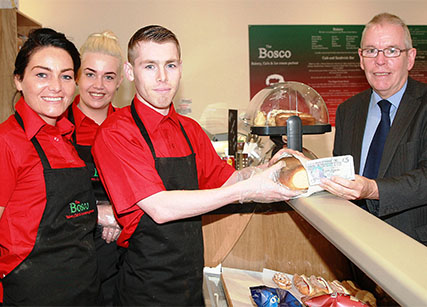 A brand new social economy bakery serving the community in the New Lodge area has opened its doors, thanks to help from us.
Named after the patron saint of young people, St John Bosco, the Bosco Bakery, Café and Ice Cream Parlour has welcomed its first customers and business is booming.
A grant of £10,000 was provided to Artillery Youth Club by us under its Social Housing Enterprise Investment Scheme.
This has allowed the employment of two full time and four part time staff, some of whom have previously faced problems accessing employment due to prior contact with the criminal justice system.
Harry Murphy, Youth Worker at Artillery Youth Club, explained:
"We identified there was a gap in services for our community and felt this type of development could make a huge difference, both to local people and the young people we work with.
"Everyone deserves a second chance and we can provide this for young people who want to work but are finding it difficult to get through doors, because of issues in their past.
"It's been amazing to see the response from local people – they seem genuinely glad to have a new bakery in the area – and we're also selling ice cream too.
"We have sit-in facilities and want The Bosco to become a hub for local people to make connections and relax in a comfortable environment.
"We couldn't have opened our new social enterprise bakery without the help of the Housing Executive – they have helped us give young people a positive future.
"Thirty four local projects across NI are celebrating after receiving investments totaling just over £360,000 for social enterprise initiatives in Phase 1 of the our Social Housing Enterprise Investment Scheme.Childcare providers, mental health support services, allotment sites, furniture upcycling initiatives and shared space projects are among a number social enterprises benefitting from the investment programme.Aimed at building services and creating new jobs and opportunities in local housing communities, the individual awards ranged from £500 to £50,000.
The scheme forms an integral part of our new Social Housing Enterprise Strategy.Malachy McKinney, our North Belfast Area Manager, said:
"I'd like to congratulate the Artillery Youth Club team for this brilliant initiative.
"We are committed to building vibrant and self-sustaining communities throughout our housing stock and these investments are a valuable means of doing so.
"By helping address issues of employability, providing opportunities for our tenants & building inward investments locally, we hope that tenants' quality of life will be enhanced."