PURVEYORS Of Irish whiskey are in for a treat as a new dedicated online hub for all things Irish whiskey is launched.
WhiskeyClub.com – a new initiative from drinks company, Dillon Bass – will be a one-stop shop for fans of Irish whiskey to find out more about their favourite tipple.
Bringing together all the latest news and views with a guide to Northern Ireland's best Irish whiskey bars and stockists alongside a potted history of Irish whiskey, whiskey event listings, blogs and much more, the new website has been designed to cater for growing consumer interest in Irish whiskey.
Owners of the largest whiskey portfolio in Northern Ireland, with brands including Jameson, Redbreast, Powers and Midleton, Dillon Bass has been championing the category for over 30 years, as Irish whiskey has grown to become the world's fastest growing spirit category.
The development of the new Whiskey Club initiative is the latest step in the company's efforts to share its passion for Irish whiskey with consumers across Northern Ireland, whilst celebrating the quality bars and bartenders that have played a role in shaping the Irish whiskey story.
Commenting on the launch of the new initiatives, Joanne O'Hagan, marketing manager for Dillon Bass said:  "At Dillon Bass we have been passionate about Irish Whiskey for a long time.
"We have been working with the industry over a number of years, educating and training on Irish Whiskey, and we recently employed a dedicated Irish Whiskey Ambassador, Joe Magowan earlier this year.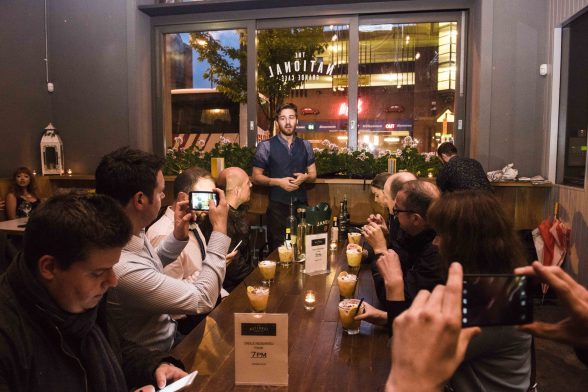 "It is great to see the growing interest in Irish Whiskey – from bars and retailers but also from consumers. This interest is growing locally but also on a global scale – Irish whiskey is the fastest growing spirits category in the world.
"And we are seeing that growth in Northern Ireland with Jameson in double digit growth year on year.
"We believe there is huge potential for Irish Whiskey to be become a bone fide tourism product in Northern Ireland. Our visitor numbers are growing and people want to visit Irish Whiskey bars when they come here – we're proud to invest in this new initiative, which will highlight the many fantastic venues that are playing a part in celebrating the great heritage of Irish whiskey."
It is an exciting time for Irish Whiskey with a steady stream of new whiskeys being produced, new distilleries launching and innovations within the category.
Dillon Bass and Irish Distillers are proud to be at the forefront of these new developments, with recent launches such as Jameson Caskmates and the new Jameson Whiskey Makers Series.
And in further exciting news for local whiskey lovers, Dillon Bass has partnered with Taste and Tour – the award winning team behind Belfast Food Tours – to add a Whiskey Walk to their list of popular tours.
The new tour will take in some of Belfast's top whiskey bars including, Bittles Bar, The Duke of York, The National, The Dirty Onion and The Merchant Hotel.
Commenting on the launch of the new Whiskey Walk, Phil Ervine, director, Taste and Tour said:  "We're very proud of the Whiskey Walk we've created alongside Dillon Bass. Their passion for and knowledge of Irish Whiskey is second to none and we can't wait for guests to experience our Whiskey Walk.
"Here at Taste and Tour NI It is our aim for people to finish the Whiskey Walk with a new found appreciation and knowledge of Irish Whiskey and the Belfast bars that serve it."
The launch of our Dillon Bass' new WhiskeyClub.com online hub and the new Whiskey Walk tour in partnership with Taste and Tour will support the company's continuing training and education programme, which is supporting the development of a new experienced based tourism offering in hospitality venues across Northern Ireland.
Joe Magowan was appointed as Dillon Bass' dedicated Irish whiskey ambassador earlier this year. Commenting on the launch of the new Whiskey Club, he says he is certain the initiative will satisfy a growing thirst for knowledge. "Current consumer trends are showing consumers move to brands that are crafted; brands with history and provenance; brands with stories to tell. There isn't a better story than the history of Irish Whiskey and that is the driving force behind our new Whiskey Club.
"Consumers are becoming more adventurous and experimenting with Irish whiskey cocktails, matching whiskey and food and beer and our new Whiskey Club website will provide a valuable hub for those that are keen to find out the latest news, events, as well as bolstering their knowledge and dispelling the myths."
For further information, visit www.whiskeyclub.com , follow @WhiskeyClubNI on twitter, or like the Whiskey Club NIFacebook page for further updates.
Tickets for The Whiskey Walk cost £60 per person and can be booked online at www.tasteandtour.co.uk