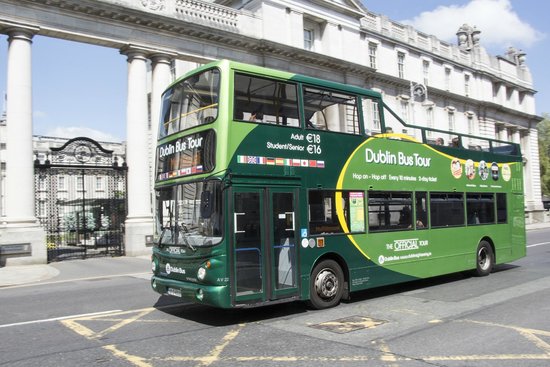 BY TIM HEDGLEY, GROUP TRAVEL EDITOR
AS a frequent visitor to Dublin for work purposes, I have never thought of it as a tourist destination, I take the train down attend a meeting or two and train home. I see hotels, tourists and attractions but never give it a second thought. Well until last week.
For this trip I took my accommodation with me and booked a pitch at Camac caravan park just off the N7.
Camac is a great spot because the red sightseeing bus stops there in the morning and evening every day, meaning you can take in the sights and not have to bother with parking.
My first morning I had slept, and missed the red sightseeing bus so I hopped on the Dublin Bus no 69 down to fleet street just close to temple bar. When I got off the normal bus I hoped on the Dublin Bus sightseeing tour (www.dublinsightseeing.ie).
This hop on hop off tour is ideal for visiting Dublin. It visits all the major tourist spots in Dublin and for me the first port of call was the amazing Dublin Zoo.
Dublin Zoo is much more than a fun-filled, stimulating day out for all the family, it's a place to learn about wild animals, especially those which are endangered.
The Zoo is a registered charity and by visiting you will help maintain Dublin Zoo, improve the Zoo and contribute to conservation programmes.
Located in the Phoenix Park Dublin Zoo is Ireland's most popular family attraction, and welcomes over one million visitors a year.
As one of the world's oldest, yet popular zoos, the 28-hectare park in the heart of Dublin is home to some 400 animals in safe environment where education and conservation combine for an exciting and unforgettable experience!
I had only planned to spend an hour or so there but it was so fascinating I spent a whole day. For me the Orangutan stole the show. These highly intelligent animal were just fascinating to watch.
Be warned though when they climb the ropes to cross over the walkway they are likely to relive them selves, yes on top of you. I have never laughed as much when I saw them taking a pee over a group of visitors. Dublin zoo is not just a place to cage in animals it's a sanctuary for conservation and without the Zoo a number of species would be lost forever. Entry start at around €17 with group and family tickets available. See www.dublinzoo.ie.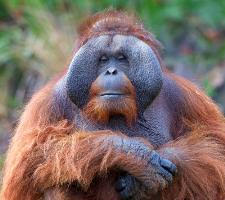 My first day was supposed to be a host of visiting but I was so taken by the Zoo, I spent the day there. After the Zoo I went down to the temple bar district to while away a few hours enjoying the "Craic".
The temple bar area is jam packed with amazing traditional bars and eating establishments. Probably a throw back to 795AD when the Vikings populated the area it continues to be one of the most popular areas in Dublin today.
Back out on the bus to Camac for some alfresco dining in extremely pleasant temperatures for mid September. Next morning I was up bright and early to get into town for more city sights.
First port of call was Dublin city hall, which houses a wonderful and little known exhibition of the history of Dublin. The City Hall which was built by the Guild of Merchants and originally known as the Royal Exchange is a magnificent example of the Georgia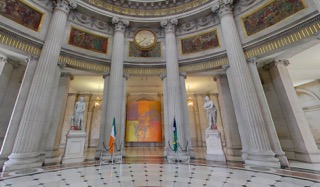 n architecture for which Dublin is world-renowned.
Dublin City Hall was built between 1769 and 1779 purchased by Dublin Corporation in 1851.
The circular entrance hall or Rotunda where the merchants strolled and discussed business is now available for the solemnisation of civil ceremonies and can also be hired for corporate and private functions.
In the vaults lies the Story of the Capital multi-media exhibition where visitors learn about Dublin's evolution from Viking to modern times.
Treasures of the city such as the great sword and mace of Dublin and the Lord Mayor's chains come together with video, medieval manuscripts, interactive computer displays and period costumes, to tell the story of the capital city.
Admission to Dublin City Hall is free for 2016. This is well worth a visit.
After the city hall I grabbed a sandwich and was off to Kilmainham Gaol. Kilmainham Gaol opened in 1796 as the new County Gaol for Dublin. It closed its doors in 1924. Today the building symbolises the tradition of militant and constitutional nationalism from the rebellion of 1798 to the Irish Civil War of 1922-23.
Leaders of the rebellions of 1798, 1803, 1848,1867 and 1916 were detained and in some cases executed there. Many members of the Irish Republican movement during the Anglo-Irish War (1919-21) were also detained in Kilmainham Gaol, guarded by British troops. Names such as Henry Joy McCracken, Robert Emmet, Anne Devlin, Charles Stewart Parnell and the leaders of 1916 will always be associated with the building.
It should not be forgotten however that, as a county gaol, Kilmainham held thousands of ordinary men, women and children. Their crimes ranged from petty offences such as stealing food to more serious crimes such as murder or rape. Convicts from many parts of Ireland were held here for long periods waiting to be transported to Australia.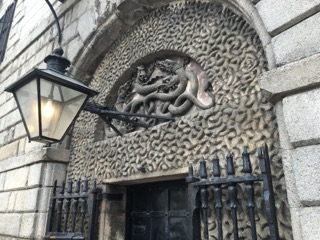 Kilmainham Gaol Museum is operated and managed by the Office of Public Works. It matters not what side of the political divided you may come from this is a must see attraction.
Just like Crumlin Road in Belfast this wonderful museum evokes the memories of all those who passed through its gates.
Such as the 5yr old who did 15 days for stealing bread to some of the founders of the Irish state who met their end in front of a firing squad. It is hard to get tickets if you turn up so please book on line to avoid disappointment see: http://kilmainhamgaolmuseum.ie/.
After Kilmainham I was off to the Irish National Gallery. In June 1852 William Dargan, the father of the Irish rail network, approached the Royal Dublin Society (RDS) with an offer to underwrite a spectacular exhibition on Leinster Lawn in Dublin, the home of the RDS since 1815.
He wished to imitate the great exhibition that had taken place at Crystal Palace in London the previous year.  Just eleven months later, on the 12th May, the exhibition was opened in an astonishing series of pavilions for which the architect, John Benson, received a knighthood.
The enthusiastic response of the visiting crowds demonstrated an active interest for art as well the desire for the establishment of a permanent public collection that would also be a fitting tribute to the generosity of Dargan.
If you like art then this is the place for you. Inside you will see a restricted (due to refurbishment) amount of art but it is still a must do. Monet to Yeats, the National Gallery collection holds some 15,000 works of art dating from the 13th to the 20th century.
I was coming to the end of my 48 hour Dublin city visit, and I had not even stepped foot in St Stephens Green, O'Connell street, Grafton St, the Guinness brewery any churches or cathedrals which means one thing.
I have to come back and return I shall do.