THE Irish government says it intends to set up an investigation into Northern Ireland's biggest ever property deal.
Nama, the Irish state asset agency, sold the property loan portfolio to a US investment fund for £1.2bn in 2014.
There have been a series of allegations about impropriety in the sales process.
The Dublin government will discuss options with opposition parties before deciding on the format for an inquiry.
The Nama deal is already the subject of an inquiry by the Northern Ireland Assembly's finance committee.
Earlier today in Dublin, a report by the State's financial watchdog into the sale of NAMA's Northern Ireland portfolio has found the agency incurred a potential loss to the taxpayer of £190m on the sale after previous write downs were included.
The Comptroller and Auditor General's report raises questions with how the loan portfolio was valued and marketed for sale.
NAMA has said the key finding of the report is "fundamentally unsound and unstable and cannot be left unchallenged".
Irish banks had lent out £4.6bn to developers in Northern Ireland and these loans were bought by NAMA for £1.9bn, before being eventually sold for £1.3bn.
The C&AG says if the loans were held and worked out individually, they could have been worth £1.49bn.
It says there was a potential loss to the taxpayer of £190m.
This is on top of a write down in the value of the Northern Ireland loans that had occurred between 2010 and 2013 as a result of annual revaluations of the portfolio.
The C&AG said there is no indication that NAMA had considered a bulk sale of its Northern Ireland assets until US law firm Brown Rudnick wrote on behalf of US investment fund Pimco in June 2013 offering an exclusive deal.
It found that two of NAMA's valuations of its Northern Ireland loans in late 2013 and early 2014 underestimated their value.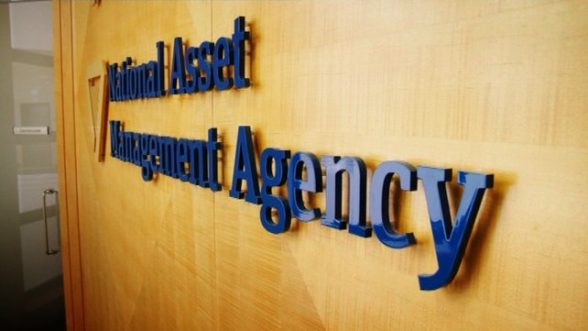 The C&AG report also noted that Pimco withdrew from the bidding war in March 2014 after it told NAMA about a "proposed success fee arrangement" involving Brown Rudnick, a Belfast law firm called Tughans, and a former member of NAMA's Northern Ireland Advisory Committee.
The £7m subsequently discovered in the Isle of Man was in an account controlled by a former managing partner of Tughans, Ian Coulter, who resigned after it was unearthed.
Tughans, which acted as a subcontractor for Cerberus's US lawyers, Brown Rudnick, insisted it was not aware of the transfer and all parties involved in the 2014 transaction have denied wrongdoing.
The C&AG found NAMA dropped its reserve price in late March 2014 to £1.23bn and on 1 April that year Cerberus offered £1.24bn and the only other bidder, Fortress, offered £1.075bn.
The Irish Cabinet this morning agreed that there needs to be further investigation of the sale.
The National Crime Agency is currently investigating the Northern Ireland property sale.
Two men, former Nama advisor Frank 'The Snipe' Cushanhan, and Nama official Ronnie Hanna, were arrested earlier this year for questioning by the NCA.
Both were released pending further inquiries. They have now been released from their bail conditions.
BBC NI Spotlight last week revealed Cushnahan accepting £40,000 in cash from property developer John Miskelly.
Taoiseach Enda Kenny is to invite Opposition party leaders to meet him tomorrow to seek agreement on the issues that need further investigation.
The meeting between Mr Kenny and Opposition leaders will also look at the most appropriate nature and terms of reference for such an investigation.
Subject to the outcome of those discussions, the matter will then be the subject of a Dáil debate early in the new session.
The Government also expects that the Public Accounts Committee will wish to convene a public hearing at an early date.
There have been calls from the Opposition to set up a commission of investigation into the €1.6bn transaction.
Mr Kenny has pointed to legal issues concerning the ability to compel witnesses and documents as two jurisdictions are involved.
Speaking this morning, he said the report must be read and analysed before any decision is taken on how to proceed.