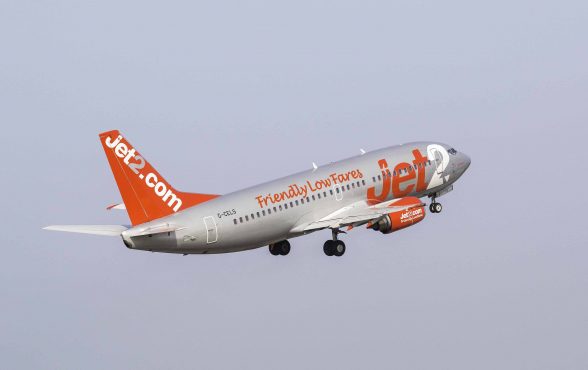 LEADING leisure airline Jet2.com , which flies to 17 destinations from Belfast International Airport, is to create up to 50 new jobs in Belfast as part of a major recruitment drive.
The move will see the company employ 1,000 new staff to fill pilot, cabin crew and engineering positions available across the UK.
To support this drive, the company has been hosting a recruitment roadshow in the Maldron Hotel, Belfast today.
The roadshow has been designed to support the recruitment of pilot, cabin crew and engineering positions at Belfast International Airport as the company continues to grow.
Earlier this year, Jet2.com and Jet2holidays launched theirBIGGEST EVER flights and holidays programme for summer 2017 from the Airport, with more flights and more seats to a range of exciting sunshine hotspots including brand new exclusive destination, the Costa Brava (Girona).
Following the recent addition of an 8th UK base in Birmingham with flights launching in 2017, alongside the acquisition of 30 new B737-800 aircraft commencing in September 2016 over a two-year period, Jet2.com and Jet2holidays are looking to invest in their next phase of growth and development. As such, Jet2.com is recruiting around 1,000 roles nationwide.
This continuous expansion has opened up a wealth of exciting opportunities for a host of talented pilots, cabin crew and engineers alike.
The roadshow will provide the perfect opportunity to meet members of the Jet2.com team and receive expert advice and information about the various roles with an informal chat.
Steve Heapy, CEO of Jet2.com and Jet2holidays said:
"Our family-friendly formula is clearly working with customers and it means that we're one of the UK's fastest growing airlines.
"We have exciting plans to expand the number of destinations we fly to, as well as the number of UK bases we fly from, and this means that our team is growing all the time too.
"f you're a Pilot, Engineer or aspiring Cabin Crew, and want to join the team of the UK's favourite airline*, then we'd be delighted to see you at our Belfast roadshow."
Jet2.com is the fourth largest registered airline in the UK and has recently been voted the UK's favourite airline by TripAdvisor users and the UK's most loved airline by users of the airline review website Skytrax.
It is looking to recruit B737 & B757 Type Rated and Non Type Rated Captains and First Officers to play a pivotal role in their ongoing success.
The roles are targeted at experienced Pilots with an existing Commercial or Military background, a strong training record and the commitment, energy and flexibility required to deliver Friendly low fares to their all-important customers.
Aspiring Cabin Crew members will be passionate about customer service with a positive and flexible approach to work to ensure the customers always receive a truly VIP service when flying with Jet2.com.
Outside of the cockpit, Engineers are on hand 24/7 to ensure flights continue to operate safely.
The airline's EA 145 Maintenance Approval covers both Line and Base Maintenance and experienced Engineers also work in office based roles, including Powerplant, Technical Services, Airworthiness and Maintenance Programmes.
As the UK's leading leisure airline, with a fleet of over 63 aircraft flying to more than 220 routes to popular destinations in the Mediterranean, the Canary Islands and a wealth of European Cities, this marks an exciting time for Pilots, Cabin Crew and Engineers to hop aboard the Team.
To see all the jobs available visit http://www.jet2careers.com/