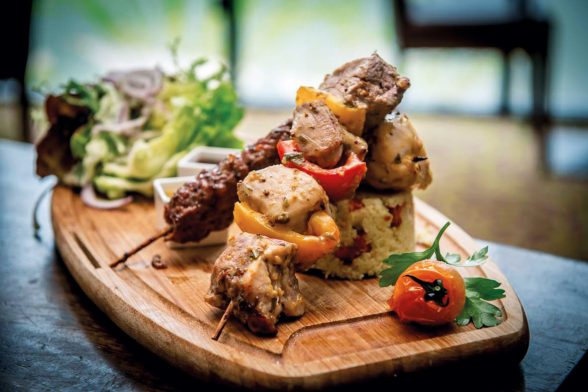 HASTINGS HOTELS are continuing to support the mouth-watering Northern Ireland Year of Food and Drink 2016 initiative with unique and delicious recipes rolled out across all six of their hotels.
This month, Northern Ireland celebrates its love of meat with the appropriately named Love NI Meat month.
The people of Northern Ireland appreciate locally sourced and expertly prepared meat, said Colman O'Driscoll, Executive Head Chef, Everglades Hotel.
"Whether it's a succulent beef burger, moist chicken breast, flavoursome pulled pork or a tender piece of steak, NI people really love their meat.
"Because of this, Hastings Hotels has prepared a delectable new meat dish – a trio of marinated kebabs – that are sure to tickle the taste buds of carnivores at each of our hotels during August.  The meat used in each of the kebabs is sourced locally from Carnbrooke Meats in County Down", said Colman.
The three kebabs each come with a marinade and dipping sauce specially chosen and prepared to compliment the individual tastes.
The chicken kebab is marinated in orange and served with a delicious tarragon dip, the pork kebab marinated with mustard comes with home-grown sage dip, and the lamb kebab with sweet chilli marinade is accompanied by a home-grown mint dipping sauce.
Colman continued:  "The trio of kebabs comes with roast vegetable couscous and a salad garnish and is served alongside either Thompson's Hastings Blend Tea or Bewley's Estate Blend Coffee, all for just £10.
"Not only this, but for just another £5, food lovers can indulge their sweet tooth afterwards by including the fabulous locally made, Glastry Farm Ice Cream Slider.
"This layered ice cream terrine is made from three Glastry Farm ice creams – Lavender and Raspberry, Heavenly Chocolate and Yellowman Honeycomb – on a light vanilla sponge base with berry compote," concluded Colman.
The appetising trio of kebabs will be available throughout all the restaurants in the Hastings Group during August, Love NI Meat month, in celebration of Northern Ireland's Year of Food and Drink 2016.