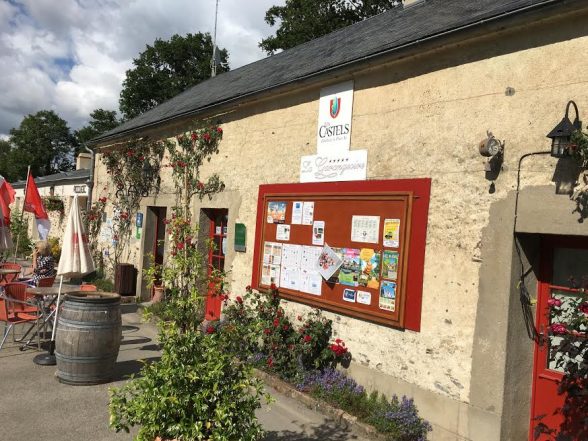 BY TIM HEDGLEY, GROUP TRAVEL EDITOR
MY final part of my three part series on French caravan sites covers the La Garangeoire in Pays de la Loire which is located in the in the hart of the Vendée Bocage in a little village called Saint Julien des Landes.
This is a superb site features 60 pitches, including 181 equipped with chalet or mobile-home and some tent /caravan pitches with private bathroom and showers.
As I have mentioned before shower blocks are important to campers and caravaners.
However on this site I booked a private bathroom with shower / wc and dishwashing facilities.
Now trust me this is something special.
Private Facilities
Having private facilities like this at your own site means no long walks in the middle of the night to the loo or to the showers and to add to that the facilities are even heated.
This is clearly glamping at its best. It's hard to explain what a tremendous difference the private bathroom makes to your pitch if it's a tent or caravan paying that little extra is really going to make a massive difference to your camping experience.
Relax
We all know that holidays are special as they are supposed to be the release valve for the years work so it is important that what ever you do and wherever you go you time should be a relaxing as possible. The staff at La Garangeoire will do their utmost to make your holiday as pleasant as possible. Multilingual receptionists and bar staff are always on hand to give you the best information and advice about activities in and around the campsite and other tourists locations.  Need a doctor, a mechanic, a visit to the vet? They will help you making an appointment and point you in the right direction. The "service and maintenance" team ensure that an incident, or a technical problem, is resolved in less than an hour.
If it all goes wrong!
It's fair to say that many companies make amazing claims about their services but the proof of the pudding is in the eating. Not that I wanted to but I had a very serious incident that pushed their staff assistance to the limit. During a visit to a pine forest in another part of France, I didn't realise I had been infected by a Pine processionary moth – (Thaumetopoea pityocampa)
This little blighter can cause a very severe reaction and swelling. And after I had arrived at La Garangeoire, my leg started to swell.
The reception staff pointed me in the direction of the local Doctor and made an appointment for me. I got some antibiotics and looked forward to my quick recovery. Sadly the leg kept on swelling and it caused such a problem a vein burst.
What was a swollen leg, turned into a life-threatening situation very quickly and I was loosing a large amount of blood. A difficult situation at any time but this was midnight. A kind caravaner called reception staff and it was the owner of the campsite who was with me in minutes.  An ambulance was called and the staff and my amazing wife applied a tourniquet and saved my life.
The staff at La Garangeoire could not have been more helpful and they did everything to assist us before my repatriation back to Ireland, and I owe them a lot of thanks.
Facilities 
La Garangeoire has it all and here you have the opportunity to play your favourite sport or discover new activities such as angling in one of their 4 lakes, tennis, football, basket & volley ball, horse or pony riding, canoeing, crazy-golf, trampolines, pedal karting and so much more…
There is a spa, yoga, relaxation classes, and a fitness centre to burn off all that cheese and wine, beauty care and a heated swimming pool.
Not only does La Garangeoire have all those facilities but they also have two bars, supermarket with fresh bread every morning and some amazing entertainment.
 The evenings at La Garangeoire pass by, and none are the same !
 Every summer night there is something to do!During the summer season, there is a wide range of entertainment that will deliver  music that is sure to please everyone. Covers of famous rock bands, French songs, jazz, rhythm & blues, African drums and if you're a musician, don't hesitate to bring your instrument!
There is also a piano where you will be encouraged to participate.
 If that sounds to lively, then you can learn the secrets of wine tasting and discover French wines with a specialist. Every week during the high season La Garangeoire run a family fun evening.  A bit like a fair, they offer lots of outdoor games:  giant wooden games, face painting, rodeo or mechanic surf simulator, duck fishing etc
and in July and August they have "night swimming" every Tuesday evening.
From end of May to the beginning of September, a mini disco is also organised every week and of course the very popular quiz where countries genrally pit their wits in family event for our British and Irish guests. Every week we have a quiz about the culture and knowledge… and in English!
Like all the Le Castel campsites I visited the attention to detail was superb and you are guaranteed a great camping experience. And for the "Connected Kids" there are 5 free WIFI areas.
All in all La Garangeoire is an amazing site and one, which I will be returning too without a doubt.
Visit http://www.les-castels.com/.