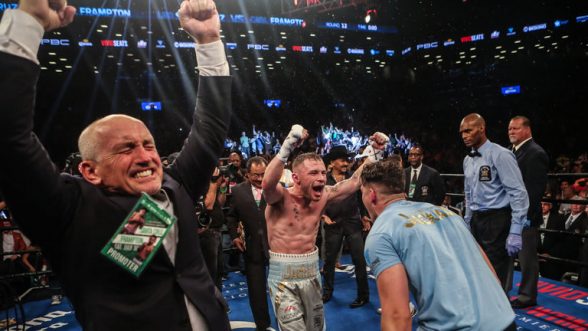 THEY will be rolling out the red carpet as a two-times champions strolls back into his native Belfast.
For Belfast City Council has confirmed it is hosting a homecoming event will be world boxing champion Carl Frampton in Belfast on Friday.
The council said the event will take place at Belfast City Hall to celebrate the first local boxer to win world championships at two different weights.
The homecoming bash will take place between 6 pm and 7 pm on Friday evening.
Entry will be on a first come, first served basis.
Frampton says he's "honoured" that the council is holding a homecoming event for him.#
"I'm a working-class lad from Belfast and I'm delighted that I'll be able to celebrate my world title win with the people of this great city," he says.
Mentor and promoter Barry McGuigan and his trainer son Shane are expected to be part of Carl's entourage for the evening.
Barry McGuigan has fond memories of a homecoming event held for him in Belfast 31 years.
The Clones born fighter became the adopted son of Belfast when he went to QPR's Loftus Road football ground and in June 1985 and beat world featherweight champion Eusebio Pedroza on points.
Barry was paraded through Belfast City Centre in an open top bus as the footpaths heaved with crowds of well wishers.