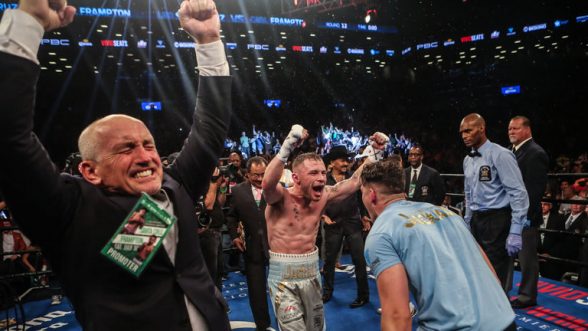 CARL Frampton became a two-weight world champion after defeating Leo Santa Cruz by a majority points decision in Brooklyn to claim the WBA featherweight title.
The former super-bantamweight champion (23-0 KO 14), fighting for the first time at featherweight, produced a superb performance to inflict the first defeat of Santa Cruz's career and was declared the clear winner by two judges, with the third ruling it as a draw.
By doing so, Frampton, who made the decision to move up in weight in February after unifying the IBF and WBA super-bantamweight titles with victory over Scott Quigg, claimed the belt his manager Barry McGuigan won in 1985.
The Tiger's Bay lad promised to prove that "he was the best featherweight in world" in the build-up to the bout at the Barclays Center and he did not disappoint in the early rounds, rocking Santa Cruz onto the ropes with a series of powerful, sharp punches.
"I wanted to be in a fight people would remember," said Frampton, having made good on his pre-fight promise to give fans a "shock".
His mentor and manager Barry McGuigan, who held the same title three decades ago, said: "This is one of the greatest nights of my life. It doesn't get much better than this."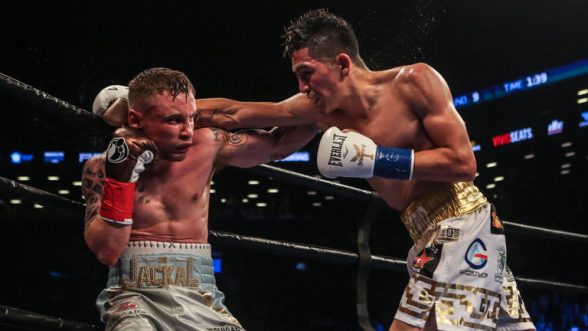 Frampton continued to land the more effective punches, but Santa Cruz, who was making the second defence of the title he won in August 2015, eventually settled down and responded with productive sixth and seventh rounds.
Santa Cruz (32-1-1 KO18), a three-weight world champion, dished out some lethal combinations, but was unable to capitalise as Frampton absorbed the punishment before regaining the initiative in the following two rounds.
Frampton continued to look assured until the closing stages of the fight, when he was tested by a powerful overhand right from Santa Cruz in the 10th round.
But a late surge from Santa Cruz was not enough. Despite judge Guido Cavalleri scoring the contest 114-114, Frank Lombardi (116-112) and Tom Schreck (117-111) ruled in favour of Frampton, sparking joyous celebrations in the ring.
After "This guy is a three-weight world champion. He is a true warrior and I respect him a hell of a lot.
"I would love to bring him to Belfast and show them an amazing fighter but I have a good relationship with Lee Selby's team. I want to be the best and be involved in big fights."
Defeated Leo Santa Cruz: "It was a pretty tough fight but now I want a rematch. I don't care where.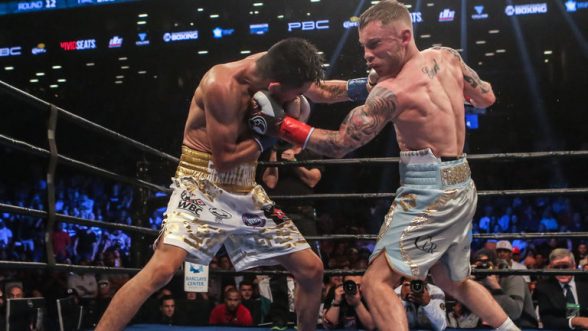 "He's a great champion and he's got a very difficult style. It's hard to forget your first loss but I will go back to the gym and get a rematch."