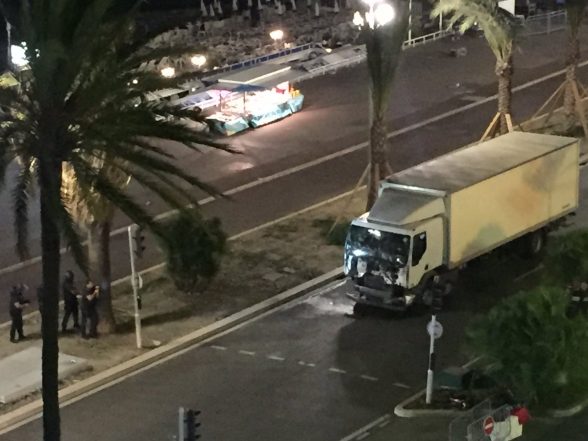 THE French Interior Ministry has now confirmed that 84 people have been killed in an Islamic State terror attack in Nice last night.
A lorry (pictured above) drove at speed for over a mile into a 40,000 strong crowd of people at the end of Bastille celebrations last night.
Eyewitnesses said the attack happened just a fireworks display was ending around 9.30 pm on the Promenade des Anglais in the southern coast city.
Scores of people have been left seriously injured, with 18 now "critically injured".
There are fears the death toll will still rise.
Latest figures suggest 100 people have been left injured, many with life threatening and life changing injuries.
The driver of the truck has been shot dead by police after he alight from the truck,
French police have examined the truck and found grenades and guns, according to French newspaper La Fiagaro.
French authorities have urged people in Nice to "stay in doors" over fears gunmen may be on the loose in the city,
It is reported one suspect maybe on the run from police.
French president Francois Hollande returned to Paris last night to hold crisis talks with security and intelligence chiefs.
He has described the incident as an "act of terror".
The attack happened on the day French security services scaled back a necklace of steel across the country after the Euro 2016 finals.
There were fears ISIS would target the tournament and its French hosts and carry out a massive terror attack on football fans.