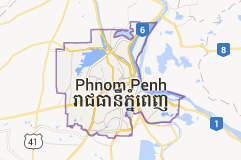 A MAN from Northern Ireland died in Cambodia and another has been taken to hospital.
Martin Stephen Hale, from Lisburn, Co Antrim, was discovered on Friday on the floor of a room in the Happy House Guesthouse in Phnom Penh.
The 34-year-old had been travelling with Dean William McWilliams, who was also found lying on the floor, close to Mr Hale's body.
The pair, who are believed to be cousins, were taken to Calmette Hospital, were an unconscious Mr McWilliams was treated in the intensive care unit. He has since been released.
The Happy House is a cheap guesthouse offering dorm beds to backpackers for as little as £2 per night.
A spokesman for the Foreign Office said: "We are providing support to the family of a British man following his death in Phnom Penh in Cambodia on Friday, July 1. Our sympathies are with them at this difficult time.
"We are also providing support to the family of another British man who was hospitalised with the deceased."
His sister, Cortney McWilliams, had posted on Facebook: "Dean was recently visiting a friend in Cambodia. His friend sadly passed away and Dean ended up in intensive care.
"He is now missing (and) we don't know where he is or even if he is safe. Nobody has heard from him.
"He was last seen at Happy House Guesthouse in Phnom Penh, Cambodia, at 4am Sunday morning (Cambodian time).
"If you know anybody in Cambodia, please can you tag them in this post.
"We're all so worried and just desperate to bring him home safe. His name is Dean McWilliams. He is 22."
Hours later, a family friend posted a message to a website that had been trying to help find the Antrim man.
The person wrote: "Dean has been found through online appeals. Somebody waited at the (British) Embassy and hospital, and in a twist of fate Dean appeared
"We have been in contact with him. We have someone who has offered to keep him and help him gather his belongings, to take him to hospital to be cleared to fly, and then to try and recover his passport, then keep him until we can arrange flights."