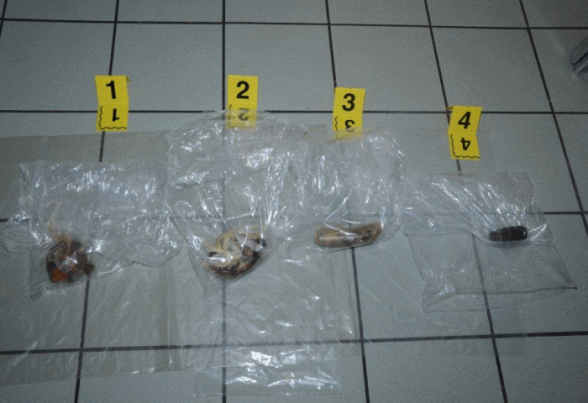 THIS is the haul of lethal Semtex-H explosives police have seized from dissident republican terrorists in north Belfast.
Detectives from the PSNI's Serious Crime Branch continue to appeal for information following the recovery of approximately 1.5kg of suspected commercial explosives at Maeve House in the New Lodge area yesterday afternoon.
Police believe the haul of explosives belongs to one of a number of dissident republican groups operating in the New Lodge area.
The PSNI have released images of the find which had enough explosives to make at least three deadly under car booby trap bombs.
Chief Superintendent Chris Noble said: "These items will now be subject to a detailed forensic examination.
"Until this has been completed, it is too early to link these items to any particular group.
"Our investigations are currently ongoing and we are following a number of lines of enquiry.
"This was a significant recovery and we want to make sure that we gather every single piece of available information to assist us with our inquiries.
"We are appealing to the public to assist us and continue working with us, and give us any information they have about any suspicious activity in this area which might assist our investigation.
"This seizure demonstrates that when people provide us with information, we will act on it to ensure everyone in our community is kept safe.
"We recognise the inconvenience this operation may have caused to the community yesterday but I hope people will understand the need to put public safety first."
Anyone with information can contact police on the non-emergency police number 101.
Or if someone does not wish to provide their details, they can contact the independent charity Crimestoppers on 0800 555 111.