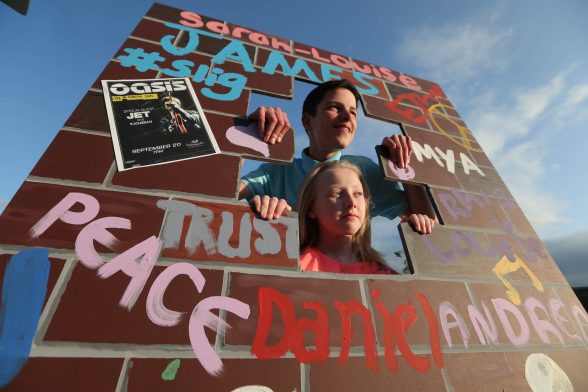 A unique partnership between two Peace Walls projects was today hailed for giving young people a stronger say on potential alterations to physical community divisions.
The 16-week scheme, developed by Suffolk and Lenadoon Interface Group and Lower Oldpark Community Association, brought together almost 30 young people in west and north Belfast to identify how changes to Peace Walls could improve or impact upon their everyday lives.
Supported by the International Fund for Ireland's Peace Walls Programme and Belfast City Council, the scheme gave participants the chance to undertake technical mapping and re-visioning exercises, visit other Peace Walls Projects and complete practical training courses. A short film capturing the learning experiences was also developed by the young people and unveiled at Girdwood Community Hub.
Billy Gamble, International Fund for Ireland Board Member, said:
"We know that young people who live near interfaces continue to be deeply affected by social division and the legacy of conflict. 
"But there is a readiness within them to shape a better future and take positive risks in ways that older generations have been nervous about doing.
"Their views on Peace Walls need to be heard and it is right that that we encourage them to think about how alterations to interfaces could change their circumstances.
 "The young people involved in this project deserve credit for the achievements that they and this project have made. They are opening the door to positive transformation and I congratulate all of the participants for their commitment and accomplishments."
Speaking on behalf of the partnership, Suzanne Lavery and Sarah Lorimer stated:
"Both Peace Walls Projects have the wellbeing of young people and their role within the wider community at their heart. We appreciate the many participants who gave of their time and commitment to engage frankly on this important piece of work.
 "This collaboration is about equipping young people with the knowledge, skills and competencies to become agents of change and build a more positive future for themselves and others.
"We've been greatly impressed by how they have applied themselves and started new conversations around difficult issues including sectarianism and physical division."
Cllr. John Kyle of Belfast City Council's Shared City Partnership says, "Belfast City Council and the Shared City Partnership are delighted to support work like this which brings young people together to articulate their personal experience of life at the interface.
"Council commends the work of all those involved in this project and hopes that the enthusiasm and dedication of the young people involved can act as a catalyst for change in their local communities and help us to create a shared city and a shared future or all residents in Belfast."
Suffolk Lenadoon Interface Group (SLIG) is an award-winning community development organisation based on the Suffolk Lenadoon interface in outer West Belfast.  It is managed by the two main community organisations in the area: the Suffolk Community Forum and the Lenadoon Community Forum.
Lower Oldpark Community Association/ The Cliftonville Community Regeneration Forum operate in North Belfast and in partnership as part of the Imagine Peace Walls Project working together on this Peace Walls Programme to build a confident, thriving and diverse community by advancing social, economic and physical regeneration.
In February 2016, the International Fund for Ireland extended funding to both Peace Walls projects until December 2016.