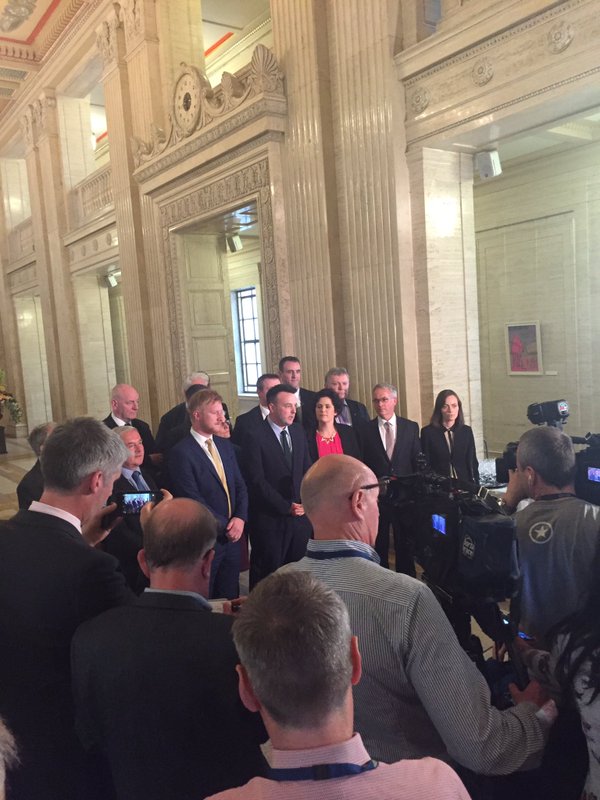 SDLP leader Colum Eastwood has announced that the party will go into opposition in against Sinn Fein and the DUP.
The Foyle MLA made the announcement at Stormont flanked by his Assembly party and two members of the Westminster Parliamentary party.
The SDLP  have now followed the Ulster Unionist Party onto the opposition benches at Stormont.
It is now a whole new political landscape at Stormont.
For the first time since the Good Friday Agreement, a proper opposition is now in place to hold the Sinn Fein/DUP government to account.
Earlier, the First and Deputy First Minister accused the SDLP of being "dishonest" during Stormont's programme for government negotiations.
It followed Mr Eastwood saying he was "very disappointed" over the talks.
At his press conference (pictured above), Mr Eastwood said: "It is clear that the DUP and Sinn Féin are determined to put forward a framework that includes no action, nothing that they can be held accountable for or to."
He said the SDLP would work with anyone who was happy to work with them but "this will be a positive and constructive opposition, not opposition for opposition's sake."