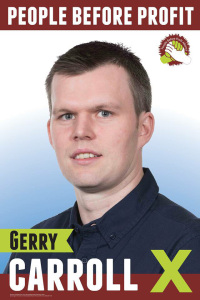 IT is the election that has seen a rise in the fortunes of some of the independent candidates.
But some in the mainstream parties are hurting as they see their votes fall and candidates facing a tough political future without a seat.
In west Belfast, People before Profit Alliance's Gerry Carroll will be taking his seat on the benches in the Assembly after getting elected.
He appears to have taken votes off both Sinn Fein's Fra McCann and the SDLP's Alex Attwood.
Following his win, Gerry said: "This result is testament to our hard work on the ground."
But it is also a sign that people in west Belfast were fed up with the mainstream nationalist and republican politicians.
One vote told Belfast Daily: "It is very simple. Gerry Carroll is now doing what the Shinners used to do.
"They sold us down the river over welfare reform. Instead of challenging the cuts, they handed the power to the Tories."
Asked how he voted, the man said: "I am not telling you. That's between me, my maker and the ballot box.
"All I will say is this: if you were walking to the poll station and there is a lamp post in front of you with a picture of Gerry Carroll and Fra McCann on it, it wouldn't taken a brain surgeon to work out who to vote for.
"People have seen through Sinn Fein's greed, the expenses racket at Stormont. The money they were getting wasn't enough. They had to devise scams and rackets to defraud the public purse.
"Gerry Carroll is above all that. He is a man of the people and for the people. Sinn Fein are all out for themselves – power and greed."
Meanwhile, in south Belfast, the SDLP's Ferghal McKinney is said to be be in "serious trouble" of not getting back into the Assembly.
He was co-opted into the Assembly following the departure of Conall McDevitt under a cloud.
But McKinney, who is the SDLP's deputy leader, has yet to win a public election on his two feet.
Another party colleague is struggling in west Belfast. It would appear Alex Attwood is going to find it difficult getting re-elected unless he can secure enough transfers down the line.