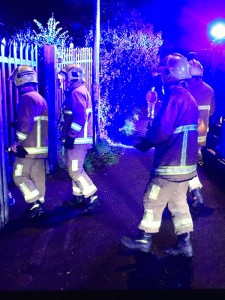 NORTHERN Ireland Electricity say a loud bang and a flash which lit up over the above west Belfast on Friday night were nothing sinister.
It says a piece of equipment failed at an electricity substation near Lenadoon.
A probe is under way to find out what caused it but there are no truth in the rumours spreading on Facebook and Twitter that it was caused by a 'meteorite'.
Witnesses described hearing a bang and flash of light in the sky shortly before midnight and many believed it was an explosion.
The flash across the sky was seen in Newcastle, Co Down and in Dungannon, Co Tyrone.
Thousands of homes were left without electricity following the bang.
Three Northern Ireland Fire and Rescue crews were called to the scene.
Sarah McClintock, NIE, said a fault had caused a dip in power.
"Equipment failure could cause a bang and a flash which we believe is what people saw last night," she said.
"There was nothing sinister involved. It was a piece of equipment that failed in one of our sub stations and that would have caused the flash and could also have caused the dip in power that we have seen."