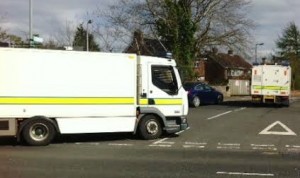 ARMY Technical Officers have made safe a pipe bomb which was found overnight.
The security alert around 11 pm sparked the evacuation of over 40 homes in Ballydonaghy Meadows in Crumlin, Co Antrim.
The security operation to make safe the viable device ended in the early hours of this morning.
Residents have since been allowed back into their homes.
It was the second pipe bomb to made safe in the space of 12 hours.
A similar device was made safe in Upper Dunmurry Lane in west Belfast.