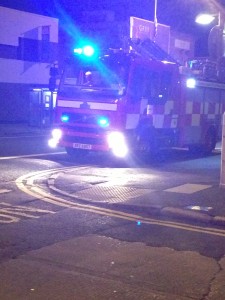 A MOTHER and her daughter were plucked to safety in early hours of this morning.
Fire crews were called to Kirkistown Walk in the Belvoir estate, south Belfast, after a fire had broke out an oil tank.
The blaze quickly spread to a bungalow in a row of terrace houses and the property was destroyed.
Fortunately a smoke alarm had alerted the occupants and fire crews were able to help the mother and daughter escape.
Crews worked to prevent the blaze from spreading but six nearby properties were damaged including one which had a pigeon coup.
A Fire and Rescue Service spokesman said: "Unfortunately 22 pigeons perished in the fire with eight surviving".
Three sheds were damaged at another home as the burning oil rapidly spread.
An investigation is now underway to determine if the fire was accidental or deliberate.