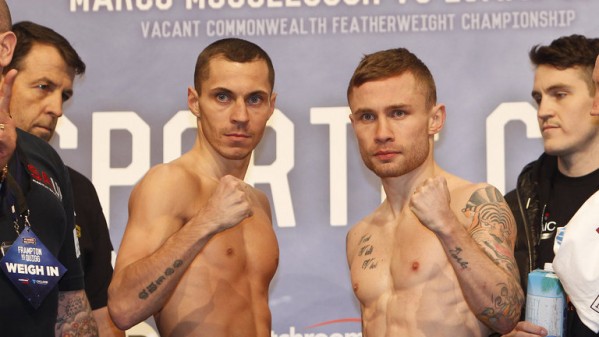 IT has been five years in the making and the night has finally arrived.
Belfast's Carl Frampton and Scott Quigg have been needling and goading each other all week in the tense build up to the Manchester clash.
Now the talking is all over and tonight the two boxers will got into the ring around 10.45 pm and let their gloves do the talking.
The fight is being shown live on Sky Box Office.
Both fighters are unbeaten super-bantamweights.
Frampton brings the IBF title to the table and Quigg risks his WBA belt.
The two have expressed respect for each other in the past but as fight night nears, tempers are fraying.
There was the fractious face-off at the Manchester leg of the media tour, then the changing room row and the brief tussle at the final press conference and finally trainers Shane McGuigan and Joe Gallagher clashing at the weigh-in.
Those events will soon be rendered pretty irrelevant, though, when the opening bell cuts the engine of the hype machine and the pair get down to business.
The bookies have Frampton a slight favourite, but the phrase 'genuine 50-50' has seldom been used as much as in the build-up to a fight…
Thousands of boxing fans have travelled from Northern Ireland to Manchester ahead of tonight's fight.
Frampton hopes his large band of travelling supporters can spur him on to a win in Quigg's back yard.
Carl Frampton says he has the power to knock out Quigg.
And Quigg promises to knock out Carl Frampton
Frampton insists he has won the mental battle and has not lost his composure.
It has all the prospects of a tantalising fight with Frampton hoping he will crowned the victor and return to Belfast with two belts around his waste.