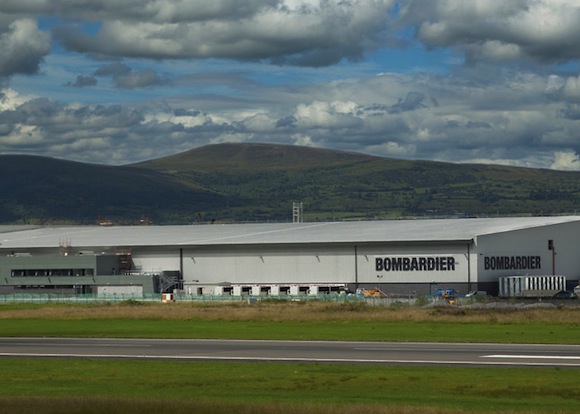 PLANEMAKER Bombardier is to shed over 1,000 jobs across Northern Ireland.
The Canadian owned firm said that 580 jobs will go this year.
And a further 500 are to be cut next year  – a total loss of 20 per cent of the NI workforce.
It also announced that 270 jobs are to go at its trains business, UK for Rail, which employs 3,500 people at several sites.
Bombardier is cutting 7,000 jobs across its global workforce.
The company has been under severe financial pressure as cost overruns on its new C-Series jet.
In a statement the firm said: "We deeply regret the impact this will have on our workforce and their families, but it is crucial that we right-size our business in line with market realities"
It added that "we will continue to evaluate all opportunities to significantly reduce our costs, improve our competitiveness, and boost our profitability."
In a statement the trade union Unite, said: "This jobs loss announcement is the latest, cruel blow to Northern Ireland's manufacturing sector.
"The scale of the losses reflect the severe market conditions being experienced by the group, which has led to over 7000 job losses globally.
"The Northern Ireland Executive needs to redouble their efforts and secure alternative employment for those highly skilled workers who will be made redundant. Invest NI must now commit themselves fully to proactively seeking foreign investment in manufacturing."
The firm has also been hit by a downturn in the business jet market.
Bombardier is the largest manufacturing employer in Northern Ireland and supports hundreds more jobs through its supply chains.
Of the 580 jobs being cut this year 380 come from the firm's "complementary labour force".
That part of the workforce is made up of temporary and contract workers and tends to fluctuate depending on demand.
Late last year the Northern Ireland workforce was asked to accept pay cuts and other changes to terms and conditions with the firm saying it was "in serious financial crisis".
The offer was rejected by union members following a ballot.
Jobs Miniter Jonathan Bell has expressed his "deep regret" at the move.
He said: "First and foremost, my thoughts are with the workers and their families as they absorb today's news.
"The company has taken this decision to rationalise its workforce across all its sites in order to ensure its viability for the future."
He added that the firm had received £75 million of NI Executive assistance between 2002 and 2015.