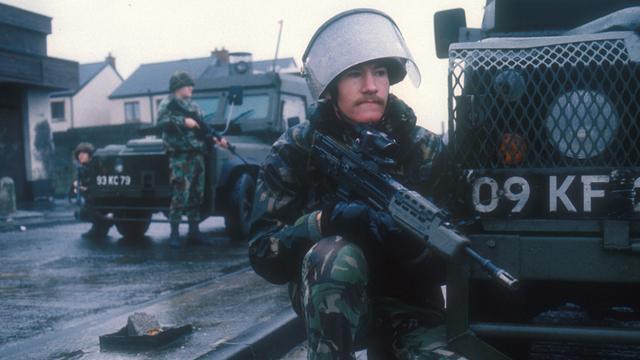 THE PSNI is facing a fresh headache over the past – this time from former security force members.
For around 150 former British soldiers and ex-servicemen are to ask the PSNI to investigate IRA gun and bomb attacks on them during the Troubles.
Belfast Daily understands that a Belfast-based solicitor will write to PSNI Chief Constable George Hamilton this week.
The letter will ask that a "review be conducted and questions answered" as to why no one has been brought to account over these shootings and bombings.
Members of a newly formed action group set up to spearhead their campaign said there was now "open mutiny" within the ranks of the British Army over Troubles-relating killings.
"Soldiers involved in Bloody Sunday are to be questioned this month over their actions that day 44 years ago," said one senior group member.
"But when is Martin McGuinness going to be arrested for what he did that day and in subsequent days and years against the security forces?
"When is he going to be held to account to directing terrorism, ordering murders, shootings and bombs?
"The British Government has brought a sh*t storm to its own door.
"Men who fought for their country, were wounded, were maimed, are now to be pulled through the courts for doing their job and upholding the rule of law against the fascist actions of the IRA."
It is expected that in the coming months up to 150 former soldiers will forward complaints to the PSNI's Legacy Investigation Branch.
In a statement to Belfast Daily today, the Former Security Forces Action Committee FSGAC (NI) said:
"After careful consideration and consultation with our members, former HM forces and our former colleagues within the Royal Ulster Constabulary GC and Ulster Defence Regiment CGC all of which served during operation banner 1969-2007 in the theatre of operations  in Northern Ireland, we  have decided to petition the Chief Constable of the current policing service in Northern Ireland the PSNI to review all cases where our members were the victims of attacks by terrorists organisations during this time.
"We will request a full update  in the case of members who were never updated on the progression  of these investigations and the subsequent outcomes of these attacks.
"It is our contention that our members have been badly let down by the justice system and we have now over 100 cases for our legal representation to review before submission to the PSNI and the police ombudsman for Northern Ireland in the case of suspected failures to conduct full investigations in many cases.
"It is also our intention for our Northern Ireland colleagues to request a face to face meeting with the afore mentioned Chief Constable to discuss in detail our  concerns in these matters.
"Our legal representation have informed us that these current 150 cases will be reviewed for submission within the next four weeks.
"Many of our members have never been spoken to by police regarding their own particular cases and totally ignored by police.
"Our mainland UK members have been advised by our former RUC colleagues to attend their local police stations and submit a statement outlining their concerned to be forwarded to the PSNI."