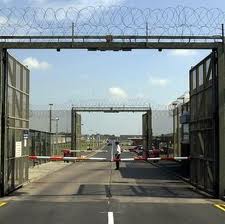 FOUR prison officers were injured yesterday during "an incident involving a prisoner" at the top security Maghaberry jail.
One of those injured was  a female warder who was treated for her injures, said the Prison Service today.
Former Health Minister and Lagan Valley DUP MLA Edwin Poots has claimed one of the officers was scalded when a kettle of hot water fell during a struggle with an inmate at the powderkeg jail.
He has echoed concerns from party colleagues and the Prisoner Officers Association (POA) that the jail is currently under-staffed.
Using his Twitter account to reveal details of the incident on Sunday, Mr Poots said: "A prison officer scalded with hot water and five colleagues injured.
"How long is the SMT [senior management team] and Minister going to drag their feet."
The Prison Service said in a statement this afternoon: "In line with Prison Service policy, a full investigation will now be carried out."
The jail is said to be "bursting at the seems" with prisoners, many of whom are awaiting on remand for trials but can't get their cases on because of a strike by criminal barristers over proposed reduction in legal aid fees by Justice Minister David Ford.
Maghaberry was last year branded as the worst prison in the UK and described it as "unsafe and unstable" for both prisoners and staff following an unannounced inspection.
An announced inspection was carried out last month and the report is due out soon to see if any improvements have been made.