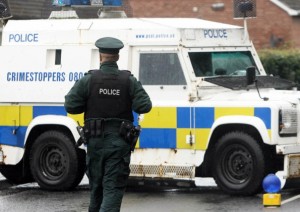 POLICE are investigating after an elderly woman received facial injuries during a mugging in west Belfast.
The PSNI say the pensioner got off a bus in the Falls Road area on Friday at around 7.30pm before turning into an alleyway leading to Ardmoulin Avenue.
Inspector Mark Cavanagh said the next thing she remembered was being on the ground and an unknown teen male standing over her.
During the incident her Nokia phone and a sum of Euros was stolen.
She also sustained a number of facial injuries during her ordeal.
The male involved in the robbery is described as being approximately aged 18 to 19 years old, of thin build and about 5'11" tall.
He was wearing a grey hooded top with the hood pulled up over his head and a black coloured scarf over his face.
Inspector Cavanagh has asked anyone who may have witnessed this incident or who has any information to contact police at Woodbourne PSNI station on the 10 non-emergency number.
Or alternatively information can be given anonymously to Crimestoppers on 0800 555 111.