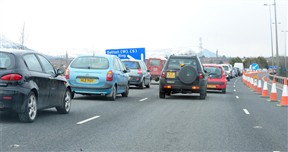 THREE people have been taken to hospital after a six-vehicle crash on the Westlink in Belfast.
The collision, involving two lorries and four other vehicles, happened at around 4 am this morning.
The injured are said to be in a stable condition in the Royal Victoria Hospital.
The vehicles have been removed and the Westlink has now reopened.
But drivers are being warning about severe knock-on delays are causing major congestion for motorists heading into the city.
Traffic on the M2 is stretching back to Templepatrick in ntrim.
There is also heavy congestion on the M3 and the Sydenham bypass for traffice heading in from Holywood and Bangor..
The Ambulance Service say it sent three accident and emergency crews and a doctor to the scene of the early morning crash.
Spokesman John McPoland said: "We are aware that the road conditions have been very, very bad overnight and we would ask people to continue to exercise caution when they are driving."
Police and Met Office officials had been warning of heavy overnight rain and the need for drivers to take extra car on the roads because of flooding.