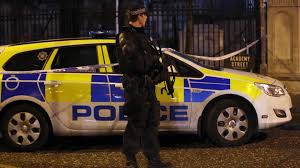 POLICE have arrested a man on suspicion of attempted armed robbery.
It follows an incident at Ballymena's Smithfield Place last night, Friday, January 21.
Inspector Mick Wood said: "Police received a report that a man, armed with a suspected firearm, had approached a delivery driver as he sat in his car at around 11 pm, and demanded money.
"No money was handed over and the man left the scene on foot.
"Officers responded, and after taking a description of the suspect from witnesses, searched the area.
"The 36 year old man was arrested a short time later and remains in custody assisting with police enquiries."
Anyone who witnessed this incident is asked to contact police in Ballymena on 101.