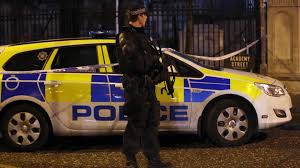 POLICE are investigating after four people, including a child, were taken to hospital after a crash involving five cars on the Falls Road in west Belfast.
The cause of the crash is believed to have been by 'joyriders' racing around the streets in a suspected stolen car.
The road has been closed following the crash that happened shortly after 8 pm this evening.
Witnesses said a joyriders in a stolen car drove through lights and struck a number of other vehicles and ended up on its roof.
"These joyriders are a nightmare in this area," said one local man.
"Their car ended up up on its roof near St Mary's College but they got away on foot."
Wreckage was strewn across the Falls Road between Broadway and the Royal Victoria Hospital.
The three adults who were taken to RVH are believed to have non-life threatening injuries.
The child is still being assessed.
The area has been sealed off by police while the scene is examined by the PSN's Collision Investigation Unit.