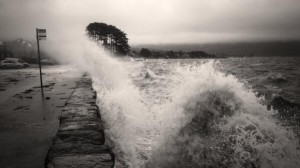 STORM Frank has caused travel disruption after heavy rain and severe winds of up to 80mph swept across across Northern Ireland.
Emergency power teams worked throughout Tuesday night and this morning to restore electricity to about 20,000 properties after trees other debris came down on power lines.
Around 600 homes and businesses are still without power, but that number could rise during today once Power NI engineers carry out a full assessment.
The worst affected areas were in Fermanagh and parts of Derry.
The Peace Bridge in Derry was closed because of the gusting winds.
The Foyle Bridge has been closed to high sided vehicles and speed has been limited to 30 mph.
Some passengers had to remain on board landed flights into Belfast International Airport as ground crew were unable to erect steps to the planes.
The weather may have a knock on effect to flights today and passengers intending to travel are asked to contact the airport for further updates.
Motorists are advised not to drive through flooded roads and slow down because of unreported fallen trees on roads.