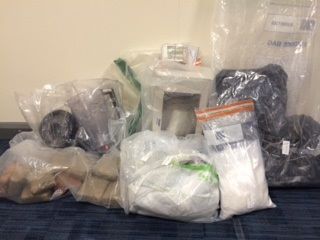 POLICE have revealed that drugs seized during an operation yesterday have an estimated street value of almost three quarters of a million pounds sterling.
Detectives from Reactive and Organised Crime Branch seized 4.5 kilos of cocaine in Portadowbn along with 10 kilos of benzocaine which can be used as a mixing agent to increase the amount of cocaine available for sale.
The PSNI have issued a photo of some of the items, including cocaine, seized in the operation.
Two vehicles and five properties were searched in Portadown and Craigavon yesterday afternoon.
Four people were arrested.
Two men aged in their 30s remain in custody.
A 26 year old woman was released pending a report to the PPS, while a 34 year old man was released on bail pending further enquiries.
The officer leading the investigation, Detective Inspector Alan Pyper said:
"We believe we have taken a substantial quantity of cocaine out of circulation and removed a significant amount of drugs manufacturing equipment including a cocaine press and blenders.
"Our enquiries are continuing, as does our commitment to taking drugs off the streets and putting those involved in this activity before the courts.
"I would encourage anyone with information about illegal drugs activity to contact police.
"We will act on your information."